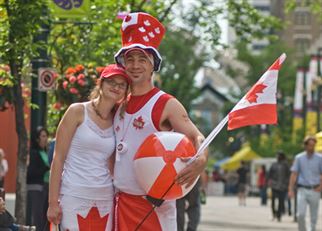 There are a ton of events happening downtown for Canada Day this year, including old favourites and a few new things. It's on a Friday so it's a great night to stay for the fireworks even if that's normally past your bedtime. Here's a rundown of everything that's going on to keep you busy for the whole day.
Fort Calgary's Canada Day Music Nation Celebration
The day starts off with a FREE pancake breakfast from 9:00 - 11:00am at Fort Calgary and then the Opening Ceremonies at 10:00am. The day will continue until 4:00pm featuring music by Tim Hus, Chris Gheran, Karl Schwonik, Sarah Vann and Kirby Sewell. There will also be a petting zoo, pony rides, crafts and games for the kids.
Fort Calgary and the City of Calgary will have a FREE shuttle bus running from Fort Calgary and Prince's Island Park.
East Village Street Fair
Between Prince's Island and Fort Calgary you can also check out the East Village Street Fair on 8 Avenue between 5 Street SE and 6 Street SE. It will be a showcase of local artisans' wares, tents for crafts, cultural exhibits and live music. Make sure to take a stroll along the RiverWalk while you're there.
Prince's Island Park
This favourite Calgary park will be home to three stages (ENMAX Main Stage, Dominion Stage and Family Stage) to celebrate Canada Day with live music as well as activities, crafts and booths for food and merchandise. There will also be a visit from YTV's WOW Tour with high-energy entertainment and interactive games for kids ages 6 to 14. The fun will start at noon with the opening ceremonies and end at 6:00pm.
Olympic Plaza
There will be roving performers starting at 5:00pm at Olympic Plaza and the Opening Ceremonies will start at 7:45pm followed by live music and at 10:45pm - fireworks! Of course, the fireworks will be weather-dependent, but hopefully the sun will last.
Calgary Transit
An important note for those taking the C-Train downtown, they will be doing track maintenance on 7 Avenue from Friday, July 1 to Sunday, July 3. There will be no CTrain service past 8 Street SW Station from the northwest, Stampede Station from the south, and Barlow Station from the northeast. All buses that travel on 7 Avenue will be detoured. There will be shuttle service instead. For more detail please read Calgary Transit's update.
Also, there is no charge for on-street parking due to the holiday and holiday rates are in effect at Calgary Parking Authority lots.
Related Posts
---