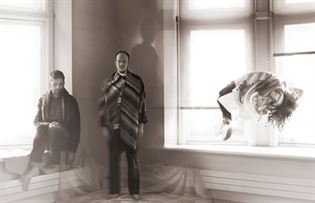 There are still 28 days and counting until the full Sled Island 2012 lineup is unveiled, but already the buzz about Calgary's premier downtown festival is amplifying to a roar.  It's going to be positively deafening in a month from now.
In the wake of her weekend sweep of the Juno Awards,  it now seems downright prophetic that Feist was announced as an initial headliner way back in February.  With rock icons like Stephen Malkmus and the Jicks, the perennially cool Thurston Moore, and the deliciously dark Timber Timbre also being part of that super early bird announcement, we had a sneaking suspicion that, come June 20th, every downtown venue was going to be jumping.
Subsequent weekly leaks - Russian Circles, Trust, Shadowy Men on a Shadowy Planet (I challenge you not to hum the Kids in the Hall theme), and YAMANTAKA//SONIC TITAN - all confirmed those suspicions.  The buzz grew exponentially louder.
On the heels on yet another release of headlining names, those few remaining indie music lovers who had not already booked their holidays for June 20-23, immediately got on the phone to their human resources offices.  Going to work is simply not a valid excuse to miss such performers as alt-country legends The Sadies, the starkly beautiful Antlers, hometown heroine Samantha Savage Smith, and Edmonton poet laureate Cadence Weapon, among many others.
Advance tickets for select shows are now on sale.  When the complete Sled Island line-up of 300+ artists is revealed on April 30, we'll all have our slide rules and compasses out, fine-tuning our strategy to hit as many shows as humanly possible.  Fortunately, Calgary in late June is the ideal time to ride your bike from venue to downtown venue, hop a free C-train to get to the next show down the road, or simply lie back in the grass of Olympic Plaza and let the sweet sounds wash over you.
Also, for those not content with music from these amazing artists, perhaps the comedy line-up will suit your fancy. Sled Island announced Tim Heidecker (one half of Tim and Eric Awesome Show Great Job!) will join alt-comedy legend Todd Barry, Hannibal Buress, Natasha Leggero and Vice Magazine co-founder Gavin McInnes. Crude funnyman Neil Hamburger has laughed off the drunken assault was the talk of the festival in 2011 and will be returning to the Sled Island comedy stage in 2012.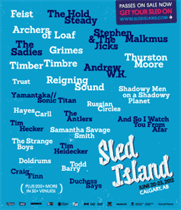 Save the Date:
Sled Island Music Festival
June 20-23, 2012
Details and tickets at sledisland.com
---