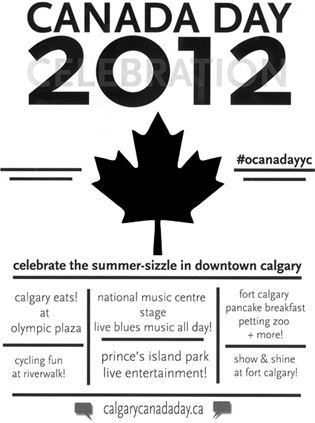 Please note this is the information for Canada Day 2012. For 2013, please view this post: Calgary Canada Day 2013.
For those looking for the best seats in the house for the Calgary Canada Day fireworks, come downtown and join thousands of your closest friends for a day packed full of food, music, entertainment and family fun!
This Sunday, July 1st is Canada Day and the entire city is going to be bustling with activity. While some say that Ottawa has the party to be at, Calgary is stepping up to kick summer off with a bang.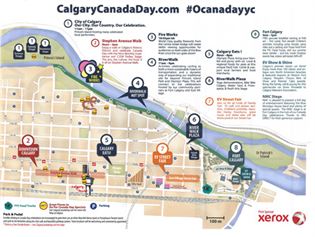 World class fireworks will be set off from the Centre Street Bridge, so whether you choose to check out Prince's Island Park, Olympic Plaza, East Village or Fort Calgary, you'll have a great view of the show!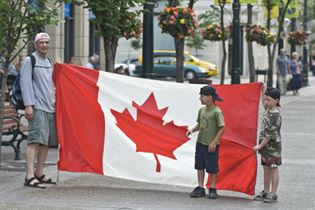 On the Stephen Avenue Walk, you can take in the sights of Calgary's historic pedestrian mall. Artisans, food vendors, buskers and Calgary's best patios will be in full force all day.
If that wasn't enough you can stop by our trolley stage for live music, and you can check out the Telus Mobility Experience which features giant television screens featuring the hottest events from around the country and the world.
If you find all the Canada Day activities are making you hungry, check out Calgary Eats! at Olympic Plaza. Bring a blanket and picnic basket to enjoy a bite of sustainable food. Local growers and food producers will be on site selling their wares.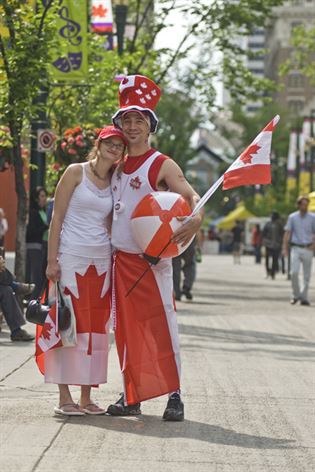 Prince's Island Park is featuring 3 stages of local music. Featuring a number of Calgary bands like Samantha Savage Smith, Dojo Workhorse and Dragon Fli Empire. There is also a Family stage, sure to keep the younger ones entertained.
The RiverWalk will be peppered with hot spots of activity all day. From Eau Claire west to Fort Calgary, cyclists, joggers and pedestrians are encouraged to enjoy the newly renovated public space connecting Prince's Island to the East Village. Buskers and other entertainment will occupy 'Hot Spots' along the way, and there will be yoga, arts and crafts and demonstrations from BikeBike Calgary, Protospace and Youth Arts Stage.
The East Village will be bustling with activity to celebrate our nation's birthday. Over 50 artisan vendors, family-centric activities, food trucks and music will all be present at the EV Street Fair.
Fort Calgary is featuring a FREE pancake breakfast starting at 9 am. Additionally, family activities like a bouncey house, petting zoo and pony rides will entertain the little ones. All outdoor events are free of charge, and you can enjoy 50% off admission to the Fort Calgary museum!
A full day of entertainment will be featured at the Nation Music Centre stage on the Fort Calgary grounds. More local bands, this time with a blues twist will entertain crowds as they look over classic cars at the East Village Show and Shine. Up to 200 vintage cars from across the province are expected to convene at Fort Calgary, that's a lot of turtle wax!
A shuttle bus will be in effect, as well as 'Park & Pedal' stations at Max Bell Arena in the west, and Pumphouse Theatre in the east. Calgarians are encouraged to park their vehicles for free at either location and cycle their way to the rest of the events and venues. Calgary's pathway system is amongst the best in the world, so grab your helmet and get pedaling!
For more information on the Canada Day Calgary celebrations, check out the Calgary Canada Day website.
---