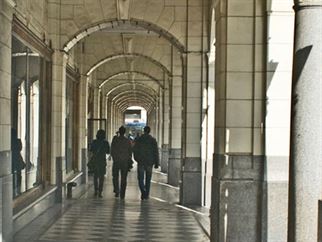 A fish fry and a deli, of course! What did you think it would be?
When most people think of the Bay, their first thought is probably not food. But in the basement, just below the hustle and bustle of Stephen Avenue, lies a quiet little lunch oasis. Tucked away somewhere between greeting cards and kitchen appliances I mistakenly fell upon this hidden gem while I was Christmas shopping last year. I didn't have time to eat and completely forgot to go back until today after one of my co-workers mentioned the Deli down there.
It's not just a great little deli - there's so much more. They have a café serving Seattle's Best coffee, muffins and breakfast fare, as well as strawberry rhubarb pie; a fish fry serving up fish and chips, calamari and shrimp; a hot entrées section that had roasted chickens and takeaway cabbage rolls, plus chicken cacciatore and more; a small salad bar and the deli, which had 3 different soups and a chili, and fresh and tasty looking sandwiches and wraps. They also had different types of deli meat and cheese that you could get pre-packaged or sliced fresh along with several different types of breads and rolls if you wanted to make your own sandwich back at the office. The shelves surrounding the deli were stocked with crackers, smoked salmon, different types of condiments, and specialty items. Plus a very large selection of Godiva chocolates. Mmmm.
If you have a sweet tooth the bakery section has tarts, cookies, cheesecakes, pies and pastries galore. Plus, the lots of savories. Quiches, and samosas, and croissants! Oh my!
I decided to take the healthier route but that fish fry has my name on it for another day….maybe tomorrow?! For $10 I had a mini picnic with a variety of tasty treats. I tried the eggplant sandwich with mushrooms, green pepper, tomato sauce and provolone cheese nestled between 2 crisp slices of breaded, deep-fried eggplant and 4 different salads: potato dill, cucumber dill, a pepper salad with zucchini, onion and red & green peppers and an Asian inspired sesame chicken salad. My favourites were the sesame chicken salad and the eggplant sandwich, which I heated up for a couple of seconds before I tried it to melt the cheese.
I was interested to learn that the Hudson's Bay Company is Canada's oldest corporation and was founded in 1670 by King Charles II. The Calgary Downtown location is obviously not anywhere near that old but it did open almost 100 years ago and there's something almost romantic about dining in a building with that kind of history even if the setting is very casual and has become a little dated. You can dine in at the little café-style tables that are perched on the old white mosaic tiled floor, or take your order to go, which is what I did this time. There were no big line ups and it struck me as a great place to come and grab a moment of peace, along with a tasty treat, during a busy work day. The only thing that could have made it better is if they had a malt shop like they used to at the Bay we shopped at growing up at Lougheed Mall in Burnaby, BC. Those malts were the best!
Related Posts
---