If diamonds are a girl's best friend, then shoes might be her secret lover.
Nothing makes you feel as sexy as a pair of fabulous new heels. Well, almost nothing. And finding your "glass slipper," so to speak, will inevitably be one of the most fun moments of the wedding planning process.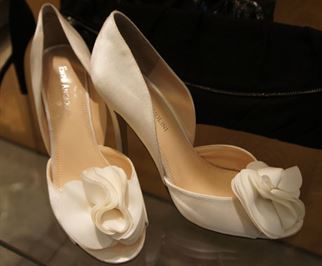 Many people still love a traditional white heel like this classic, feminine pair from Nine West.
Calgary has Fashion Central and Art Central, but if you're looking for "Shoe Central" hit up Stephen Avenue Walk.  There are so many great places to choose from!
The CORE, TD Square, Holt Renfrew  has at least 10 shoe stores that I can think of right off the top of my head ranging from Payless to Nine West.  My personal favorite right now is Spring.  They have so many cute styles and they are very reasonably priced.
This photo does not do this unique scalloped looking sparkler justice.  See for yourself at Roma Shoes in the CORE.
Several clothing stores have also started to carry shoes – Le Chateau, Banana Republic, and BCBC Max Azria to name just a few.
Looking for something a little funkier?   Calgary's very first John Fluevog location just opened at 207 8th Avenue SW!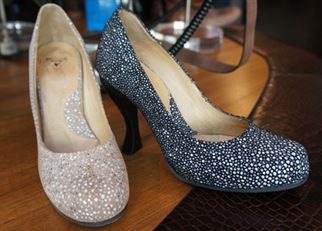 These unique gems from Fluevog could be worn again after the wedding many times over.
Also on the funky side, my sister-in-law to be (who lives in rainy Vancouver) has talked about wearing bright yellow rain boots for some fun, climate appropriate wedding photos.
If casual and comfy is your thing Brown's has some sweet white Puma sandals. Or you could do a mix of casual and funky with a pair by local artist and ACAD grad, Shauna Mae Luedtke.  This talented young lady does some incredible custom painted Vans that might also be of interest to the groom.
Arnold Churgin Shoes, a local favorite, has been in operation downtown since 1964 and half a block away,  Fashion Central is home to Pumped Shoes and Carmen Steffens high fashion shoes.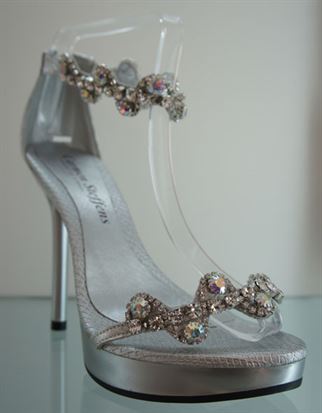 Need some bling to match the ring? Carmen Steffens offers up these bedazzled heels.
Don't forget the department stores!  The Bay, Holt Renfrew and Brooks Brothers are all in a 3 block span.  If you're dying for a pair of Jimmy Choo's head on over to Holt.
If Jimmy Choo is not in your budget have a look at the Winner's down the street where you can get designer labels at discounted prices.
If your wedding has a Western flair why not do it right with some cowboy boots?  Lammle's and Riley & McCormick are both great spots for Western wear.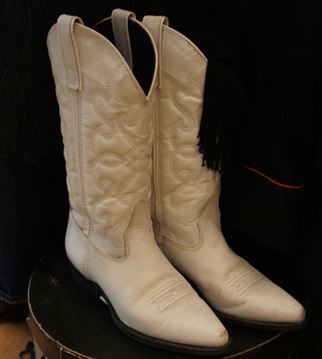 These old school white cowboy boots from A Vintage Collective are the perfect way to add a little yeehaw to your big day!
Some people stop at just the shoe, but other's like to get a little more creative.
The shoe can function as your something old. Maybe you wear your Grandmother or Mother's wedding shoes if they're still in good condition, then it could also be your something borrowed.
Your shoes can also be your something new and blue. Select from many shades and styles in blue, or perhaps the soles or inside of your shoe have a flash of colour.
Or, and I LOVE this idea so much, I have seen some gals paint hearts or initials on the soles of their wedding shoes. Imagine a photo with the one leg kicked up behind you type of kiss and a heart on your sole.
It would also be super romantic to have your husband-to-be scroll a secret message there that you can't read until you're getting ready on your big day.
The options are truly endless. Too bad the budget usually isn't!
A FEW THINGS TO CONSIDER WHEN BUYING YOUR SHOES
Where will your ceremony, photos and/or reception be taking place?  Grass, sand, snow and cobble stones are not easy to navigate in heels, so you might want to consider taking a backup pair of flats with you just in case.  These can also come in handy if you're planning on shakin' it on the dance floor all night.
Will they be seen?  If your dress is floor length and your shoes will be out of sight most of the time then you might want to reconsider dropping major coin on them.
How tall is the groom?  If you're naturally taller or close in height to your fiancé, you might want to rethink those 4 inch Manolo's, unless you want to look like Tom Cruise and Nicole Kidman circa 1996.
Wear them around the house prior to the wedding and break them in a bit.  This could save you from an evening of torture and a week of blisters.
Whether it's peep toes or sandals, if you choose an open-toed shoe don't forget to book yourself in for a pedicure the day before the wedding.
What shoes did you wear at your wedding (or wish you did)?
Photos by Sophy Kors.
---