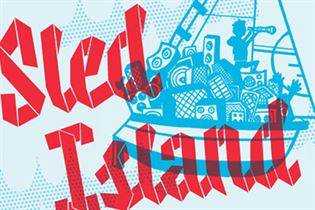 How is a music lover supposed to decide? Assuming that your Clone-o-omatic 6000 is still not fully functional, you are going to have a tough time deciding which of the 230 Sled Island acts to take in next week. It's time to download the Sled Island schedule, open up a spread sheet, and start developing an algorithm that will let you cram in the most acts humanly possible over the space of five days.
When the time comes on Wednesday night, will you be surfing the shadowy wave of Shadowy Men on a Shadowy Planet at the Legion, or will the poppy prog-rock of the Zolas have you two stepping at the Palomino? Do you plop yourself on the lawn at Olympic Plaza on Friday night to see Timber Timbre and Feist, or do you succumb to the siren's lure of the floppiest hair in rock n roll and take in Thurston Moore's show at Theatre Junction Grand?
There is no right answer, of course, but a little planning will help you max out your shows. A Sled Island pass is the simplest way to ensure access to any show. Options include the Festival Discovery pass for $199, the All-Ages pass for $50, and the everything but the kitchen sink Festival Discovery Plus pass for $349. If you are pressed for time or cash, tickets are available for select shows, as well as for Olympic Plaza concerts on Friday and Saturday.
As you peruse your festival spreadsheet, you will soon figure out that with over 40 venues to hit, split-second timing is going to be paramount. Pedal power is the only way to go. Bring your Schwinn downtown or rent a bike from the Good Life Bike Company, who will be setting up shop at the new Sled Quarters located at the Simmons Building in East Village.
With a Sled Island wristband on your arm and a bike seat under your bum, you'll get your Sled groove on to the max.
Sled Island Festival
June 20-23, 2012
many many venues
---