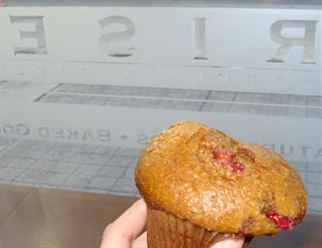 Finding a good bran muffin is not as easy as it sounds.  Shocking, I know.  They're often dry or not very flavourful, but apparently bran is good for you, or so I've heard.
In my recent "muffin crawl," I've found that nothing compares to the ones at Rise Bakery. Their muffins change daily but are always ridiculously delicious.
Bran strawberry, bran cranberry, bran blueberry, bran raspberry, bran peach – I've probably tried them all. I also had one with vanilla and pecans and another with oatmeal and raspberries. I don't think there was any bran involved, but pecans and raspberries are two of my favorite things and they did not disappoint!
When you get there in the morning around 7ish they are still warm. There is something so wonderful about walking into a bakery first thing in the morning. The smell is intoxicating and it reminds me of special mornings when our mom used to bake us chocolate chip muffins.
Muffin tops are my thing.  Usually I rip them off, eat half and then save the other half for my last bite, but at Rise their bottoms are almost as good. They're moist and delicious and no butter is even needed, which is good considering I'm up to two muffins a day now and will likely need an intervention soon.
They also have scones and fabulous looking cinnamon buns, breads, sandwiches and salads, and this amazing chocolate sourdough bread with cherries, but it's pretty rare that I can get past the muffins.
All of the items on Rise's menu are created fresh in-house daily at their two locations in downtown Calgary, one in Bow Valley Square and one in Penn West Plaza.
Another bonus is their friendly staff.  When I walked in there one morning and asked for a "tall" latte forgetting that I wasn't at Starbucks, I wasn't even sneered at. The girls that work at the Penn West building are lovely and much more alert than I am at that time of day!
Rise also does catering and I have used them for a couple of meetings and received rave reviews. They were on time and the food and coffee were fantastic. I highly recommend them as a great place to start off your day.
Related Posts
---