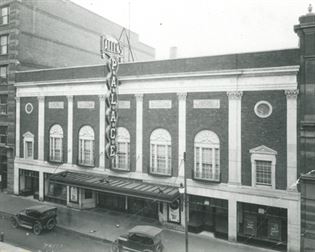 This week's Throwback Thursday photograph comes courtesy of W.J. Oliver and it's of the Palace Theatre.
Located at 219 - 8 Avenue SW, the building was initially called the Allens' Theatre as it was part of the Allen family's chain of movie theatres.  Barney Allen and his sons Jules and Jay founded the first big international movie theatre circuit in 1906 and chose to make Calgary their base of operations.
In the early 1920s, the Famous Players chain, which was just formed by Paramount, stopped the Allens from obtaining Paramount pictures which pushed them into bankruptcy and forced them to divest themselves of the theatre.  In 1921, J.B. Barron chose to enter the theatre business and it was renamed the Palace Theatre.
The venue also played host to orchestral performances and radio broadcasts, and is known for being the venue that William Aberhart made his first broadcast from in November 1925, which eventually led into the formation of the Social Credit Party.
In 1928, the theatre landed into the hands of Famous Players and continued to show movies until 1990, with its final movie shown being Tango and Cash.  The venue then sat vacant until 1998 when a consortium spent $4 million to turn it into the Palace Night Club.  It closed in February 2004 and reopened in April 2007 as Flames Central, which operates out of the venue today.
The building was designed by C. Howard Crane, an American architect who did most of the design work for the various Allen movie properties.  It is a four-storey building with a facade of the Edwardian Classical style, and is an example of the style of silent movie theatres known as "movie palaces" that were built by the Allens.  In 1996, the building was designated a National Historic Site.
That's it for this week's Throwback Thursday.  Tune in next week and every week in 2012 for more glimpses into the past of Downtown Calgary.
Do you have any photos of downtown Calgary from the past you want to share with us?  If so send us an e-mail [email protected]
Related Posts
---