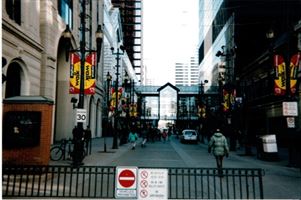 This week's Throwback Thursday photograph looks down Stephen Avenue from 2 Street S.W. and was taken some time in the 1990s.
Comparing the image to what one sees in the area today, not much has changed on the street, save for one exception:  The Trees.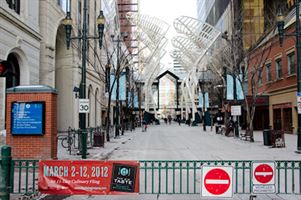 If you've ever wondered what those ten white 25-metre tall metal structures that adorn Stephen Avenue Walk near Bankers Hall are (you can see them in the background of the second image), they are simply called The Trees.
Erected in 2000, these functional art pieces display a wonderful light show that graces the area come nightfall.  However, one of their primary purposes is to break up wind gusts in between the buildings by breaking up the wind in the corridor created by the street as it runs east to west through the core.
And now you know!
That's it for this week's Throwback Thursday.  Tune in next week and every week in 2012 for more glimpses into the past of Downtown Calgary.
Do you have any photos of downtown Calgary from the past you want to share with us?  If so send us an e-mail [email protected]
---