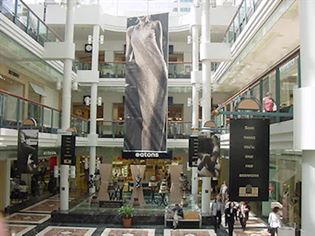 This week's Throwback Thursday photograph comes courtesy of The CORE, taken some time in early 2000.
Constructed in the late 1980s, spanning three city blocks and containing approximately 160 retailers on four levels, The CORE shopping centre as it is known today consists of three buildings:  TD Square, the Holt Renfrew building, and the former Calgary Eaton Centre.  The property also contains four major office towers (TD Canada Trust Tower, Home Oil Tower, Dome Tower) and the Lancaster Building.  It is directly connected to Bankers Hall and Scotia Centre/Hudson's Bay Store via the +15 system.
The T. Eaton Co. opened its original department store on the site in 1929.  TD Square (originally named Oxford Square) joined it to the East in 1977, and when the original Eaton's location had to be demolished to make way for the new Calgary Eaton Centre, the front facade of the original Eaton's store was preserved and can still be seen today in its original location.
TD Square has even been showcased in the movies, as parts of the exterior of the building can be seen in some of the Metropolis scenes in Superman III.
Since then, Holt Renfrew now occupies the space that Eaton's once did as part of its expansion, and the entire property has completed a three-year, multi-million dollar redevelopment project that has seen the entire complex unified under a continuous 26 metre wide, 200 metre long suspended glass skylight, which makes it the largest point-supported structural glass skylight in the world.
The CORE has redefined itself as Calgary's destination for high-end luxury goods and apparel, and is an excellent place to find some of the hottest brands all under one roof.
That's it for this week's Throwback Thursday.  Tune in next week and every week in 2012 for more glimpses into the past of downtown Calgary.
Do you have any photos of downtown Calgary from the past you want to share with us?  If so send us an e-mail [email protected]
---