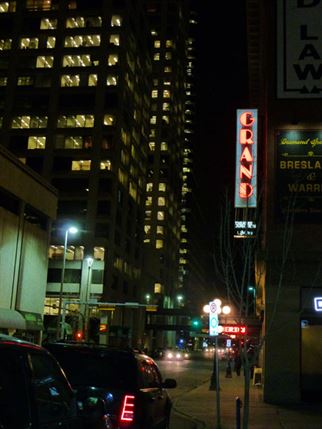 There were a lot of candles to blow out when Theatre Junction Grand celebrated its 100th birthday on the weekend.  Fortunately the stately venue has strong lungs in addition to great bones.
The elegant theatre has been everything from a vaudeville stage to a movie theatre to an indoor driving range to just another old building slated several times for demolition.  When cool heads and fiery visions stepped forward to garner public support in the aftermath of a building fire, new life was breathed into the heritage building.
It's a great space for a concert.  The warmth of the original brick walls contrasts beautifully with the cool aesthetics of the hip bar.  The performance space has been reconfigured into a multi-use room, complete with 400+ cushy seats.
And this grand old lady knows how to throw a party.  For twelve continuous hours, starting at 2 pm on Saturday, the Grand threw open the doors for an open house featuring some of Calgary's most happening artists.
Even the resident ghost, who is rumoured to loiter on the sweeping staircase, had to approve of this lineup.  Especially since it was free and all-ages until late in the evening.
2-4pm                    Hip Hop & Breakdancing Jam with Ill Movements and Grim Reminder dance group
4-6pm                   Blues Jam hosted by Vernon Wills of The Blues Can
6pm-                     Dan Vacon of The Dudes
7pm                       Samantha Savage Smith (Arts & Crafts, Sled Island Showcase)
8pm                       Preview of Attempts on Her Life, directed by Mark Lawes
Speech by Mr. Peter Lougheed
8.15pm                 The Mountaineer (Sled Island Showcase)
All Night Live Painting by Mandy Stobo (of Bad Portraits)
9pm                        Ivan Rankic (Homebreakin' Records)
9.45pm                 Wax Romeo (Homebreakin' & Bigfoot Records)
11pm                     Dj Pump (Eh! Team)
12.30am               Vinyl Ritchie (Shambhala & 3Styles World Champ's Headliner)
Happy Birthday to the Grand!  Here's to the next one hundred!
---