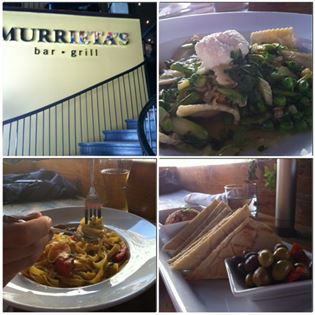 If, like me, you've ever stood at the corner of Stephen Ave and 1st St. SW and looked up and wondered what the lovely patio on the SE corner is, you're in luck! (Just me? Shoot.) Well, I finally got to enjoy lunch on that patio, which is a part of the lovely Murrieta's Restaurant.
With an entrance off of 1st Street SW (as opposed to directly on Stephen Ave), Murrieta's can be easily overlooked by locals and visitors alike, but it is a destination worthy of your visit! The interior is delightful with high ceilings and exposed sandstone from the original buildings. There is a wonderful, big skylight letting in tons of natural light, and that great little patio that I mentioned.
We were lucky enough to visit on a sunny Saturday for lunch, and got to sit outdoors and enjoy some live music from Stephen Ave below while we munched on unique pasta dishes. The service was good – friendly and quick, and the food was fresh and flavourful. We shared the hummus and olives to start, which were great. Between the three of us we tried most of their pasta menu - ricotta ravioli for me, scallop and tiger prawn fettuccini and lamb meatball spaghetti for my dining companions.  All of the dishes we great, and the option for a 'small' size order made this a prefect lunch destination!
Next time you're looking for something downtown and just slightly (ever so slightly) off the beaten track, check our Murrieta's. And with two other locations (in Canmore and Edmonton), they can be counted on for fresh Italianesque fare all over our fine province!
---