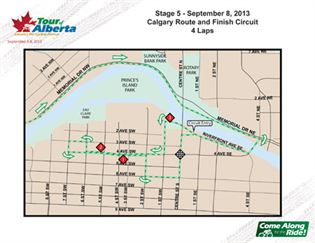 UPDATE: some changes have been made to the downtown road closures. Click Here to see a list of closures
The Tour of Alberta will come to a dramatic finish in the heart of Downtown Calgary on Sunday, September 8th and Calgarians of all ages are invited to watch and cheer on their favourite riders.
The Tour of Alberta is a professional cycling road race that starts in Edmonton, and makes it way through the province to the finish line in downtown Calgary. The events will be exciting for cycling fans, as world-class cycling teams will be in town for this very special race.
On Sunday between Noon and 6pm there will be a range of festivities at the finish line near James Short Park (Centre Street & 4th avenue SW). Festivities including food trucks, beer gardens, live music, activities for kids, merchandise vendors, big screens to watch the race on, and more!
As a courtesy to drivers, the City of Calgary has posted signs noting road closures for the day. The race takes place on city streets, so there will be no vehicular traffic (except emergency vehicles) on certain roadways between 2pm & 5pm on Sunday, September 8th 2013. See the map above for a more detailed look at the course and check out the Tour of Alberta website for more information on special events happening throughout the weekend.

Here's a listing of road closures impacting the downtown core. Note: Bus routes will be impacted, so check with Calgary Transit for more details. C-train service will run as scheduled and the road-race will not impact LRT schedules.
Road Closures

The following roads will be closed from 10 a.m. Saturday, September 7 until Sunday, September 8 at 3 p.m.:

4 Avenue S.W. between 1 Street S.E. and 7 Street S.W.
Centre Street between 3 Avenue S.W. and 5 Avenue S.W.

The following roads will be closed on Sunday, September 8 from 3 p.m. until 5 p.m.:

1 Avenue S.W. between 1 Street S.E. to 7 Street S.W.
6 Avenue S.W. between Centre Street S. to 2 Street S.W.
Centre Street S. between 7 Avenue N.W. to 6 Avenue S.W.
1 Street S.W. between River Front Avenue S.W. to 6 Avenue S.W.
River Front Avenue between 1 Street S.E. to 1 Street S.W.
3 Avenue S. between 1 Street S.E. to 1 Street S.W.
3 Avenue S. between 6 Street S.W. to 7 Street S.W.
6 Street S.W. between 4 Avenue S.W. and 3 Avenue S.W.
7 Street S.W. between 3 Avenue S.W. and 4 Avenue S.W.

In addition to these road closures, alleyways and driveways surrounding the event site may be barricaded. Please see the map for details.

Parking Restrictions

Parking restrictions will be implemented along the designated festival route. These restrictions will be enforced by the Calgary Parking Authority from 12 p.m. on Saturday, September 7 until 5 p.m. Sunday, September 8.

Residential and Business Access

Access to businesses and residences located on the north side of the event site will be restricted. Police assisted access will be provided at 7 Street S.W. and 2 Avenue S.W. for the duration of the event.

Related documents

Tour of Alberta Pro Cycling tour route map

For more information please e-mail [email protected]
---