As we head into the last long weekend of the summer with the forecast calling for sunny days with highs around 26 degrees, you may find yourself wondering what to do.  If you're not one of the lucky ones that's headed off to a lake somewhere for Labour Day, there's still plenty to keep you entertained at home.  Here are 7 ideas to get you started.
1) The 5th Annual Alley Party at Theatre Junction GRAND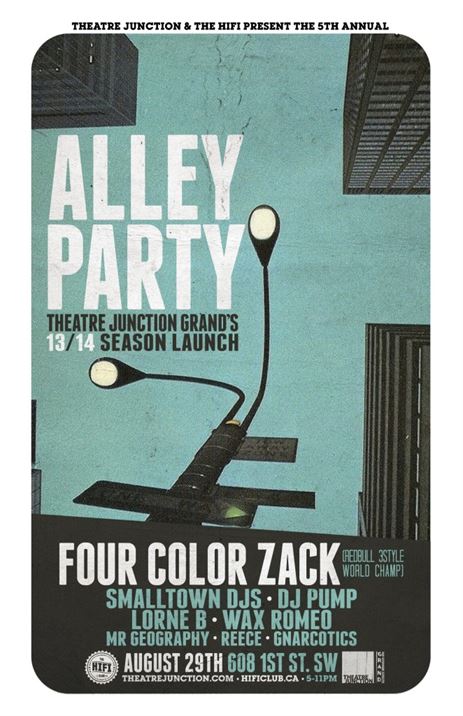 Well, it's not quite the weekend, but Thursday night is really just Friday Eve, so celebrate at the Theatre Junction GRAND's FREE block party style event on August 29th from 5:00-11:00pm to kick off their 2013/2014 season.  Enjoy drinks and tasty treats served by UBU Theatre Lounge, DJs, artists, dancers and more.
2) Pride Calgary Festivities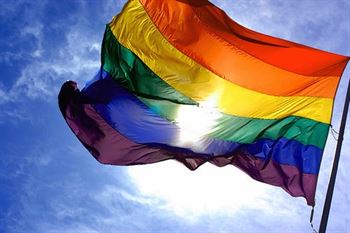 Events this weekend include the Premier's Brunch, The Second Annual Possibilities Bi-B-Q, and the Pure Pride Official Pride Dance on Saturday, August 31st.  On Sunday, September 1st, it's time for the Pride Parade and Street Festival.  More details on all the fun can be found here.
3) BBQ on the Bow
The 21st Annual BBQ on the Bow is ready to kick off this Saturday, September 1st, so be prepared for a finger lickin', lip smackin' good time.  With the perfect weather for barbecuing in store, you can head over to Eau Claire Market and watch how the pros do it.
Enjoy some great live music from The Hickeys, Bill Dowey & the Blues Devils, Brett Spaulding & the Psychic Spies, the Vernon Wills Band, and the Donald Ray Johnson Band, plus there will be a children's craft tent,  a street zone with vendors, and some tantalizing BBQ'd food from local vendors. This family-friendly event is free of charge. The festival schedule can be found here, along with maps and details on where to park for free.
4) Beat the Heat at The Globe Cinema
Had too much sun?  Head to a movie at The Globe for a much deserved air-conditioned reprieve.
Their lineup for August 30-September 5th includes "Love Is All You Need," "Unfinished Song," and "Fruitvale Station."  Check here for the full schedule.

5) Back to School Shopping
Sigh! Yes, it's that time of year again.  If you've waited until the last minute to get started on your back to school shopping you can head down to CORE Shopping Centre – TD Square / Holt Renfrew to hunt for some back to school deals on clothes, electronics, etc. If you're looking for classroom supplies be sure to check out one of the Grand & Toy stores, or Dollarama on Stephen Avenue.
6) Play in the Park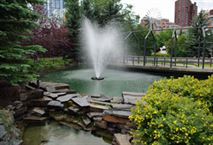 Whether you're 5 years old or 105 years old you can still enjoy a beautiful day at the park, and the City of Calgary has many to choose from.  If you're in the mood for water, then Eau Claire Plaza or Olympic Plaza will hit the spot.  If you're planning on doing some skateboarding, then pop by Shaw Millennium Park, North America's largest free outdoor skate park. If a quiet indoor park out of the heat is more your scene, then pop by Devonian Gardens, a lovely indoor oasis. Or, if you're looking to walk or bike ride down by the river the Prince's Island Park and Sien Lok are great options.  Pack a picnic and make a full day of it while you can.  For a listing of local parks and locations check here.
7) Relax on a Patio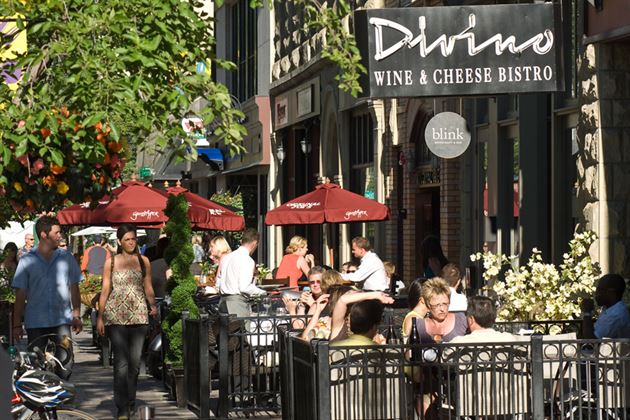 Enjoy one of your last chances to dine al fresco or grab a cold one on an outdoor patio. There are plenty to chose from in the downtown core.  Stephen Avenue alone has 22 of them!
If you have any other suggestions we'd love to hear what you're up to!
---