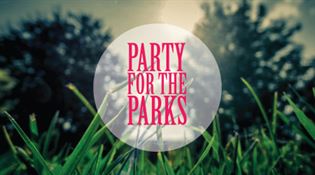 There is nothing quite like enjoying a summer evening under the stars. The warm breeze, the cloudless sky and sweet smell of wild flowers lingering in the air. Unfortunately, since the flood took over our city that day in June many of our public parks have lost their romance a bit. A bit dusty and tattered, these parks need some love and there is a really fun way you can help.
The good people behind the Party for the Parks fundraiser are bringing the quintessential park to you with their August 24th soiree!
Picture this: a normally busy downtown Calgary street will be transformed into a quaint park-like setting with grass, trees, flowers - even swing sets. Like a magical one-night-only dream, there will be outdoor movie screenings, street artists and delicious food and drinks to enjoy. Did I even mention that there will be dancing? Don't tell anyone but this pop-up park almost sounds more amazing than any park I've ever been to!
So, how does all this frolicking in the park help with restoring our beloved Parks & Pathways? Purchasing a ticket (or two) to attend and purchasing from the live and silent auction will do the trick. 100% of proceeds from the auction will be going to Parks Foundation Calgary, meaning the parks we know and love so well will be cleaned and refurbished as soon as the funds are raised. There will be some incredible auction items up for grabs so it is unlikely that you'll leave empty-handed. The live jazz playing inside the Chicago Chophouse will be enough to make you want to stay all night.
Tickets to Party for the Parks are only $49.00 (+GST) per person or 2 for $80.00.
To purchase your tickets please call 403-203-9243 or email [email protected]. A perfect date night out or get a bunch of tickets for a girls nite, you'll have a blast no matter what.
When: Saturday August 24th, 2013 6pm.
Where: Chicago Chophouse - 604 8 Ave SW
Need help finding parking? Try the Downtown Calgary parking tool.
---