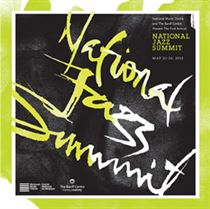 It was all jazz hands on deck when the National Jazz Summit blew into town last week.  Presented by the National Music Centre and the Banff Centre, the four days of concerts, jams and workshops warmed the hearts of all the hep cats still mourning the demise of the Calgary Jazz Festival two years ago.  Fingers were snapping all over downtown Calgary.
The Ray Charles Tribute Orchestra, a 10-piece ensemble boasting the likes of Donald Ray Johnson and former Ray Charles bassist John Gray, ushered in the summit in loud and proud style, with a launch party at the Blues Can on Wednesday evening.
Throughout the rest of the week and much of the weekend, downtown kept swinging, with a series of concerts, symposia, and up-close and personal workshops with some of the greats of jazz piano.  The always groovy UBU lounge at Theatre Junction Grand became even groovier with nightly concerts.
Piano legend Oliver Jones led a handful of wide-eyed students through a piano master class at the National Music Centre on Thursday, and then teamed up with the vibrant young pianist Vijay Iyer on Saturday morning for a highly anticipated piano masters summit.  Dueling pianos never sounded so inspirational.  Savvy jazz cats were quick to snap up all available spots for the rest of the full day interactive and educational series of workshops at National Music Centre on Saturday.  A small ensembles session, a jazz vocal workshop, and a Canadian composers quorum had them all sashaying and breaking out into impromptu scat riffs.
The shining star of the National Jazz Summit, though, had to be the appropriately-named Big Show, featuring Oliver Jones.  It was a night of smoking hot jazz in the kingdom of cool, as the elder statesman of jazz piano took to the stage at Theatre Junction Grand with the local ensemble, The Invertigo Trio.  With a special guest appearance by Grammy award nominated Vijay Iyer, the night was a brilliant fusion of grand master, bold contemporary and local hero.  Long after the impromptu final ovation finished ringing, jazz aficionados are still buzzing from the magic of the night.
The National Jazz Summit really was all that.
---