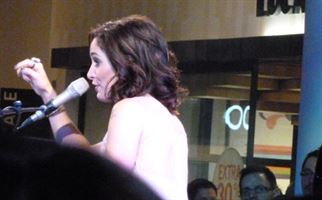 She's no Tiffany, but Chantal Kreviazuk does know her way around a shopping mall performance. Of course this was no ordinary mall. Unlike the 80′s teen idol, Kreviazuk only plays malls when there is a good cause involved, like the CORE's T'was the Night Shopping Benefit held last week.The private after-hours shopping event was both an unveiling of the CORE's striking new look and fundraiser for the National Music Centre and the United Way's Because initiative. 7,500 fashion, food, and music lovers traversed the shops from Holt Renfrew to Harry Rosen perusing exclusive one-night-only offers, sampling hors d'oeuvres and a celebratory libation or two, and bopping their heads during the free concerts.
The newly unveiled CORE shopping centre is definitely high end and has a top-notch A/V club who pulled out all the stops to bring concert hall aesthetics to a venue not normally given to live performance. The acoustics were surprisingly clear. Megatrons suspended from third level catwalks offered front row centre views of the action onstage. The droves of fashionistas who paused in their Jimmy Choos to catch Chantal Kreviazuk's performance had only to look up for an unobstructed view of the stage, if they found themselves standing behind that eight-foot tall guy who shows up at every concert.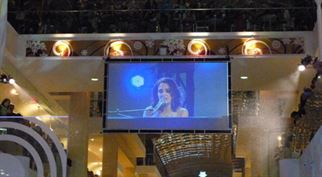 It was a brief performance, affable but low-key. Kreviazuk, who remained seated at a baby grand piano for the duration, bantered genially between songs - a few hits and a Christmas tune or two. Elsewhere in the mall, the Simon Frisk Trio laid down some cool jazz, the Bel Canto Trio made their strings gently weep, and the rousing Calgary Girls' Choir sparked the lighting of the giant Christmas tree.
And then, of course, there was the National Music Centre's chill lounge. Definitely a crowd pleaser, the festive groove rocking out from the Hammond B3 organ got even the most jaded shopoholic back into the spirit of the night. An eclectic night of music, it definitely t'was.
Related Posts
---