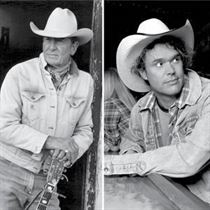 It does not get much more cowboy than this.  When Ian Tyson and Corb Lund partner up at the Martha Cohen Theatre of the Epcor Centre all this week for 100 Years of Calgary Cowboys: An evening of stories, songs and memories with Ian Tyson and Corb Lund, they'll be bringing a century of local cowboy culture to the stage.   It promises to be an evening of jawing and reminiscing and swapping songs that'll rope you in and keep you hog-tied to your seat.
Ian Tyson, the rancher from Longview, is a multiple award winner whose half century musical legacy has influenced countless musicians and made him reigning king of Canadian western music.  Corb Lund, Juno winner and seven time CCMA Roots Artist of the Year, has a punk pedigree that has been long surpassed by his stunningly authentic return to western musical roots.  Guaranteed to appeal to country music fans, students of western lore, the cowboy curious, and even the most casual of Stampede goers, 100 Years of Calgary Cowboys is the perfect excuse to hang up the Stampede spurs for an evening and mosey back downtown.
Both musicians have an impressive pedigree of western and Stampede history in their veins, so expect to come away with hatful of local cowboy tales and a headful of western songs.
Martha Cohen Theatre
EPCOR CENTRE for the Performing Arts
205 8th Ave SE
Mon July 9 - Wed July 11, 2022
Sat July 14 - Sun July 15, 2022
8:00pm
---