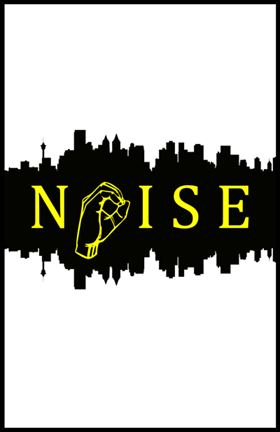 Noise is a musical with a difference - the sort of visceral, full-body difference that you feel in your bones.  Literally.
The buzz surrounding the production of Noise has as much to do with what you don't hear, as it does with what you do.  That's because the raison d'être behind this Verb Theatre production is to stage a musical experience that is as meaningful to deaf audiences as it is to the more usual hearing audience.  The multimedia show, combining theatre, dance and music, uses driving beats and deep bass to overcome the inevitable challenges of presenting music that much of the audience (as well as many of the actors) cannot hear.
Noise's musical director, Kris Demeanor (taking a brief hiatus from his duties as Calgary's 2012 poet laureate), has turned things all the way up to 11 to sonically transform the Big Secret Theatre into a thumping pulsating nightclub.  Check out the good vibrations.
Noise:
Big Secret Theatre (+15 level of the Epcor Centre)
Thurs, Nov 20 - Sat, Dec 1/12 , 8pm
Sun, Dec 2/12, 2pm
tix:  $20 at Epcor Centre box office online or 403.294.9494
---