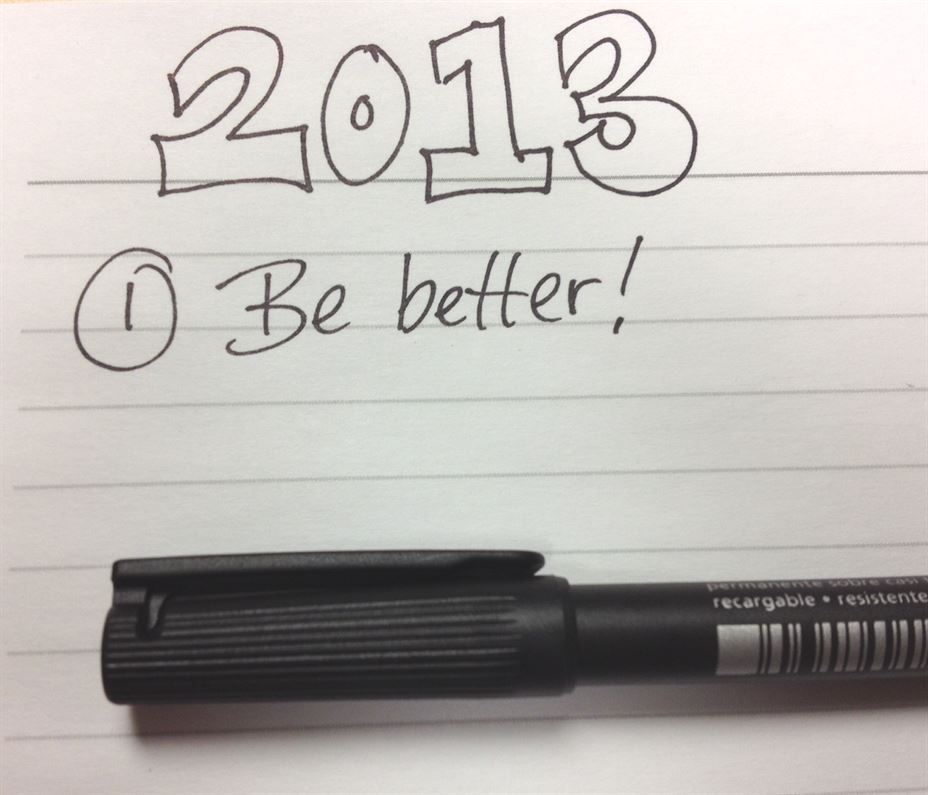 Whether you're a fan of New Year's resolutions or not, it's always good to assess your life once in a while and make some positive changes.
The smaller the change, the easier it is to stick to and achieve, and once you've successfully made that change, it sets you up to make the next. 
Most of mine for 2013 have to do with my health, both physical, and mental and how to balance them during the work week.  Not exactly original stuff here - it's just a matter of doing it.
Nutrition
Finding healthier and cost-effective take-out options, because you can't out-exercise a bad diet. Believe me, I've tried!
On those days when there's no time to make my own breakfast or lunch for work I have committed to eating "cleaner." One of the healthier options that I've found recently is the egg white omelet at Subway. I skip the bread and just have them heat it up, cut it in quarters and put it in a bowl loaded with my choice of veggies. It's only $3.15 and it comes with a coffee. Way better than my usual $4.00 latte.
For lunch I like the sesame chicken salad at the deli in the Bay Downtown. It's loaded full of veggies and chicken, and I like that it's a 'no lettuce' type of salad. The chop and Mexican salads at the SAIT Culinary Campus are also really tasty and chock full of nutrients.
If you prefer to build your own salad, Sunterra is great. I usually head over to the one in Gulf Canada Square because the lineups are usually a bit smaller.
Fitness
My previous gym membership was at a place that was out of the way and had restricted hours.  This made the perfect excuse not to go, so I ended my membership there and purchased one that's a 2 minute walk from my office. 
If you work downtown and are interested in making a switch, most of the gyms offer a week or two for free to try it out.  There are a number of options depending on what your needs are.  Many places offer different classes, personal training, massage, towel service, steam room, laundry service, and the Fifth Avenue Club and Bankers Hall have squash courts.
Here are a few that I found during my search:  Bankers Hall Club, Bikini Boot Camp Inc. (offers classes in Prince's Island Park), Bow Valley Club, Fifth Avenue Club, World Health (The Bay Club), and the YMCA Calgary.  

If you prefer to head out for a jog, The Running Room at Eau Claire is an excellent resource, and the path along the river is a perfect place to pound the pavement.
Going Greener at the Office
The lack of recycling programs for businesses is something that has bothered me for a long time.  In our office we can recycle our paper, bottles, and cans, which is fantastic, but anything else I need to wash and take home with me.  This year I plan to look into what other options are available.  If I'm unable to find any I plan to put a box in our kitchen so that I can take everyone's recyclables home.
We are taking some other small steps to be kind to the environment here. When we are not using certain rooms the lights are turned off in those rooms. Our Keurig machine is on an auto-timer, so that it shuts off when it's not being used.  We use Bullfrog Power, Canada's 100% green energy provider, which offers renewable energy solutions.  By choosing Bullfrog Power's green energy, you can reduce your environmental impact.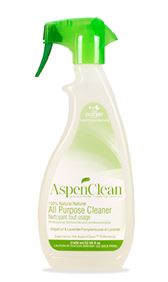 I received some information recently about a company out of Vancouver, AspenClean, that has launched in Calgary.  They offer a natural, green alternative for cleaning and maid services.  The package included their all-purpose cleaner with grapefruit and lavender essential oils and a microfibre cloth.  The cleaner is 100% natural and ECOCERT certified, which is great for the office because I often use vinegar to clean in lieu of chemicals and the smell can be overpowering.
Culture and Community
Since I decided to allocate some additional funds to my fitness this year with a personal trainer, I didn't end up purchasing a membership to the Glenbow Museum, as I had planned, but I did decide to become a volunteer. Since the Glenbow generates over 60 percent of their operating budget, they rely on the support of our community to offer their innovative programming, activities, and exhibitions. 

Whether you decide to commit your time, money, or both, investing in your community is an important investment in your future.  If you have any interest in volunteering there are still several opportunities available.  For other opportunities in Calgary check out Volunteer Calgary. 
Education
Learning something new keeps your brain working and adds a new skill to your repertoire. If the course you're taking applies to your job then it's worth approaching your employer to see if they'd be interested in assisting with the course fee.  Many places will reimburse you as long as you complete and pass the course.
I've taken a few continuing education courses at Bow Valley College.  If you work downtown it's perfect because you can grab a quick bite after work and just walk over to the campus for your class. 
Another class I took recently was a cooking class at the SAIT Culinary Campus, which was led by Chef Michael Dekker of Rouge fame.  It was so much fun and the food was absolutely fantastic!  Not only is this good to do as an individual, but also a great team-building exercise.
Their lineup of classes is constantly changing and January's selection includes a few classes that will help you shed those holiday pounds, like Cooking for a Gluten-free Lifestyle and Vegetarian.
Whatever your resolutions or goals may be, remember the question isn't 'can you do it?' It's 'will you do it?'  Best of luck 'doing it' in 2013!
---