Free candy is not the only thing to be excited about this Halloween! There are a number of fun activities leading up to 'All-Hallow's Eve' for the whole family to be excited about!
Thrill Calgary
Dress like a corpse and join hundreds of other zombies as they bring Eau Claire Market to life….er, death, with a simultaneous dance to Michael Jackson's Thriller on Saturday, October 27th.
This is a ghoulish event with a cause! While free for everyone to attend, non-perishable food items for the Food Bank are gratefully accepted.
If you're a keener you can learn the dance moves step-by-step in advance here.
Yelloween presents Eyes Wide Shut (An Adult Affair) at Ki modern japanese + bar restaurant
This upscale soiree at Ki on October 27th is an "Almost Black Tie Event," where a mask or costume is mandatory.  Entertainment will include Toronto International Electric Violonist Dr DRAW and DJ Chad Habit.  More details and tickets are available here.
Sexy Superhero Party at WEST
Pop by WEST Restaurant & Bar on October 27th at 8:00pm, or October 31st during Happy Hour (3:00pm-6:00pm) in your best superhero duds.
Calgary Ghost Tours
Join the Downtown Ghost Tour on Fridays this month for an interesting evening that will include glimpses into Calgary's history and hauntings. Meet your guide at the base of the Calgary Tower - look for the top hat and cape. Reservations NOT required. Children are welcome (as long as they are not prone to nightmares).
Tour guides have sourced their stories from the Glenbow Museum and Ft. Calgary archives, newspapers, assorted ghost story books and personal accounts & interviews.
Make a Monster
The ARC Discovery Room at the Glenbow Museum is offering kids the opportunity to make their own monster from now until January 2, 2013. A variety of supplies will be on hand to sculpt, draw, trace and colour a make-believe monster.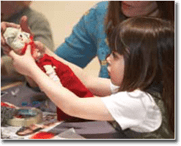 Wiggle, Giggle, Boo!
Pop by the Central Library with children ages 2-5 on Saturday, October 27 at 11:15am for spooky stories, songs, and rhymes. Costumes welcome. Preregistration required.
Weekend at the Museum: Fairies & Fools
Stop by the Glenbow Museum on November 3-4 for a full weekend of make-believe and wonder. Expect exciting performances, theatrical activities and puppet-making workshops. Dress up in your Halloween costume for a chance to win a great prize!
Green Fools Halloween Howl
The Downtown Legion will be taken over by the Green Fools on October 27. Toted as "Calgary's Hottest Halloween Party," join Gods and mortals who are gathering to say goodbye at the end of the world. Party-goers are asked to dress as anyone -real or imagined- who helped shape the world we know.
Festivities will include live music, a DJ dance party, costume contest, and more.
The Costume & Décor Hunt
Find some inspiration at the iconic Twigs & Co.  This store is always beautifully decorated and right now it looks like Halloween exploded inside of it!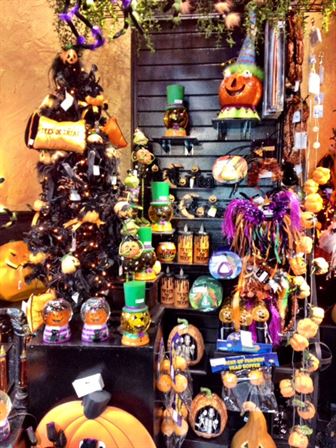 If you need something for the kids check out Winners, or Dollarama.
Please note that the 8th Annual Monster Ball slated for October 26 at Art Central has been cancelled.  
This article was updated to include new events on October 24th.
Events that have already passed:
Calgary Zombie Walk

The undead rise! Join a thousand or so of Calgary's walking dead as this annual event takes over Olympic Plaza on Saturday, Oct. 13th. This year there will be prizes for any zombies who bring a donation for the food bank (because zombies only eat brains of course). More details on their Facebook page.
Learn to Make Your Own Halloween Candy
Head over to the brand new SAIT Culinary Campus on Stephen Ave to create ghoulish candies and sweets. This 3 hour class is on Tuesday, October 23 from 5:30-8:30pm. Details on registration and other classes can be found here.
Halloween Howl 2012
Calling all witches, goblins and ghosts! Join the Alberta Diabetes Foundation (ADF) on October 20, 2021 for the fifth annual Halloween Howl Walk/Run at Eau Claire Market
---