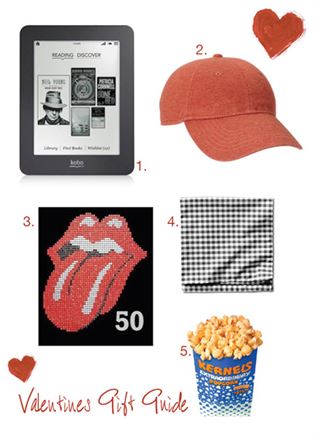 Only a few days until Valentine's Day! If you haven't already picked up your lover a swet gift, check out our gift guides for some excellent ideas to get you started on your shopping quest.
Last week we shared some great gift ideas for the ladies and this week it is all about the guys! From cool tech gadgets to tried and true classics for their wardrobe - this Valentine's Day is all about thoughtful and useful gifts.
This mini e-reader is a great gift for the bookworm in your life. Load it up with a ton of his favourite books and some great new Canadian literature bestsellers - you'll have him pleased as pie on the 14th!
Kobo Mini E-reader, $59.99, The Source
A great staple, this red jersey baseball cap is the perfect present for the weekend dude. Super soft and cozy, he'll be looking great in red on V-day weekend.
Red Jersey Baseball Cap, $24.95, Gap
The music fan will go nuts for this great book commemorating 50 years of The Rolling Stones. Jampacked with tons of vintage memorabilia, this book is essential for the audiophile in your life.
The Rolling Stones at 50, $39.60, Indigo
Something for the dapper guy, of course, this gingham pocket square is absolutely classic. Go the extra mile and get it embroidered with his initials. Instant heirloom.
Gingham Pocket Square, $32.00, Banana Republic
And because guys love snacks, you'll have to make a stop at Kernels Popcorn at The CORE for some delicious treats for your movie night in. We recommend a combo of white cheddar and creamy caramel. Sweet and salty!
---