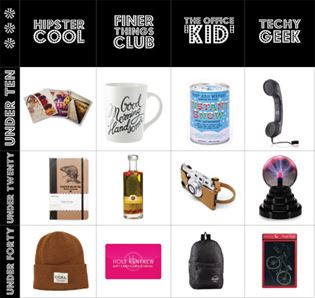 Oh hello, Office Secret Santa. Back again so soon, are you? Well, this year we are armed with a plan and if everyone decides that White Elephant is the name of the game - then watch out for these amazing gifts because you are going to want to get stuck with them!
Every single year, millions of people get guilted by their resident office party planner into signing up for the annual Secret Santa. Unless your co-workers are all your best friends (wow, we are jealous!) it is also an annual struggle to buy something personal for someone you don't really know. And to be honest, everyone is a little bit over the wrapped box of Turtles offering and certainly no one wants your re-gift of that plush Santa Claus that says "Ho Ho Ho" when you press it's belly.
No, the people are speaking up and they want something good. Luckily, you don't have to break the bank to find some amazing gifts that you'll feel good about sending out into the world. We've got great gifts in three different price ranges that your colleagues won't want to pass up!
Under $10
Retro Cellphone Handset, The Source, $9.99 - A fun and easy gift, this retro handset plugs directly in the earbud jacket of any phone. Perfect for the folks in your office that spend a lot of time on their cellphones - give their ears a break.
Good Morning Handsome Mug, Indigo Spirit, $10.00 - For the guy in the office who is never quite himself until he has his first cup of coffee, this cheeky mug will be sure to put a smile on his face upon arrival.
Snow in a Can, Indigo Spirit, $10.00 - Because simply you cannot go wrong with just about anything in can. Especially snow.
Instagram Prints, Blacks Photography, $4.99 - Lurk your Secret Santa's Instagram for some print-worthy snapshots and make a little album for them. Not at all creepy, unless you decide to print all their selfies. Then, yes that is creepy.
Under $20
Eager Beaver Journal, Roots, $15 - For that keener at work who always arrives 15 minutes early to the weekly staff meeting. They will totally appreciate a new notebook to keep track of the agenda in.
Extra Virgin Olive Oil with Herbs, Oil & Vinegar, $19.95 - Every office has it's resident foodie. Yours totally deserves this tasty bottle of olive oil.
iPhone iCA Leather Case, Jack & Elliott, $20.00 - For the marketing director on the go, this leather iPhone is easily toted over the shoulder or around the neck. Perfect for live tweeting and Instagramming.
USB Plasma Ball, The Source, $14.99 - Who wouldn't want a USB Plasma Ball? The IT guy at your work definitely wants one.
Under $40
Coal Toque, Little Burgundy, $25 - Keep them toasty all winter long with this plain yet chic toque. It is the ultimate Canadian kind of gift.
HR Gift Card, Holt Renfrew, $40 - For the fashionista in the office who likes to stretch her dollar, fork over $40 so she can put it towards her next big purchase.
Black Herschel Backpack, Little Burgundy, $30.00 - The bicycle commuter in your office definitely needs a new backpack - why not pick them up this super durable (and foldable) backpack in classic black?
Boogie Board LCD Writing Tablet, Indigo Spirit, $40.00 - The 3:00pm blues hit us all hard. Make someone's day a little bit easier with this fun writing tablet. Excellent for doodling funny pictures of the boss.
All gifts are available to purchase at the CORE.
---