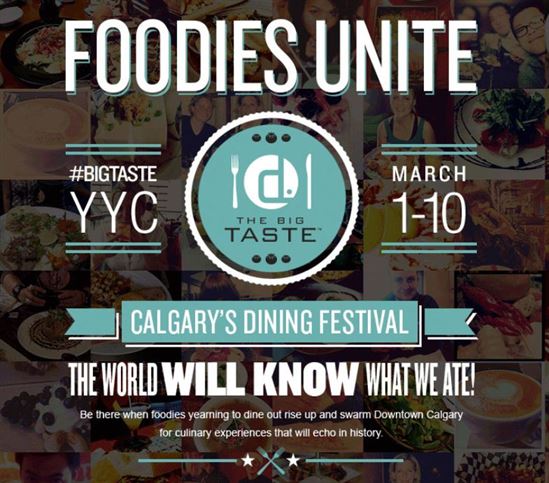 Food, glorious food!  Every March food lovers from Calgary and beyond come to be awed and inspired by what local restos have to offer during The Big Taste, Calgary's Dining Festival.
Mark your calendar now and prepare yourself for 10 days of edible adventures between March 1-10, 2013.

Whether you're trying out something new, or enjoying the comfort of an old haunt, The Big Taste will offer you a unique and memorable culinary experience.  For a tempting teaser, check out some of the  photos from last year's participating restaurants on the Tourism Calgary Pinterest page.
With a number of new hot spots having recently opened in the heart of downtown, like Cucina and downtownfood, as well as the tried, tested and true like the River Cafe and Buchanans, it will be interesting to see who's on the list this year!  
Fourteen restaurants in the downtown core were recently honoured in the January/February issue of Where Magazine's Where to Dine Awards.
If you'd like to receive updates on The Big Taste and other dining events click here, or follow along on Twitter and Instagram with the hashtags #foodiesyyc and #bigtasteyyc. The official website with all the participants and menus will launch on February 18, and there will be a special dining guide in the February 20 home deliveries of the Calgary Herald.
Restaurants interested in participating can find more information and sign up here before January 31st.
---