3 Must Try Downtown Calgary Restaurants
Those 230,000 people who work in Calgary's city centre make it one of the most downtown-focused cities in North America!
Come to think of it, that's a lot of stomachs to fill, even if only a third of our downtown workers decided to eat out at least once in the core from Monday to Friday. Do the math quickly and you'll see that's more than 383,000 meals a single work week!
Being the foodie community Calgary has grown to be, there's no settling for less than par when it comes to eating and drinking out. Many of us Calgarians love our food and go to great lengths to eat to our hearts desire!
So take it from a foodie who has been dining out at every possible Calgary restaurant for almost a decade, and believe me when I say that these three downtown restaurants are must try destinations if you love your food as much as I do.
Breakfast / Brunch at Thomsons Restaurant
I will never be able to get over this all inclusive breakfast and brunch buffet at Thomsons Restaurant / Sandstone Lounge in the Hyatt Regency Hotel.
For a very reasonable price of just over $20 you get an all-inclusive dining experience with all you can eat bagels, muffins, bacon, eggs, sausages, crepes, make it yourself omelets, eggs benedict plus heaps more of tasty traditional breakfast eats.
Oh, and did I mention all you can drink too?! Unlimited Tropicana beverages help to wash down all that absolutely scrumptious gourmet breakfast food and get your palette ready for more.
(Editor's note: As of October 2013, Thomson's has re-opened after some renovations and is better than ever. Be sure to visit Thomsons for dinner as well and sample their Free Range Culinary menu).
Thomsons Restaurant is one of the best Calgary breakfast and brunch spots around. You might want to postpone that meeting you have until 9 am and meet your associates at Thomsons!

Monday to Friday breakfast and brunch from 6:30am to 10:30am.

Address – 112 8th Avenue SE

Phone Number – 403-537-4449
Lunch at Charcut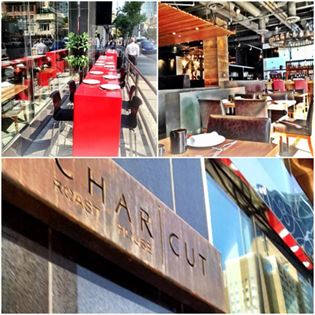 Don't get me wrong, there is tons of amazing lunch spots in downtown Calgary. Charcut just happens to be one of my favourites because it is very affordable, moderately quick and has food that is absolutely salivating!
Ask for the #1 lunch special – for only $15 big ones you get soup and the daily sandwich served with fries or grains.
If you find yourself super hungry go for the #2 lunch special – for $25 bucks you get an arugula salad, daily rotisserie served with French fries, a coffee and a bag of cookies (a great snack later on).
Every lunch or dinner experience I've had at Charcut has been better than the last. It is definitely one of my top lunch spots in downtown Calgary and you just have to try it!
Address – #101 - 899 Centre Street SW

Phone Number – 403-984-2180
Dinner at Sky 360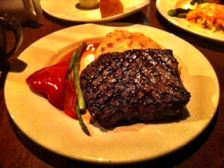 Eating in Sky 360 at the top of the Calgary Tower is as tantalizing as it is tasty.
Some would say Sky 360 is more of a romantic dinner restaurant for couples, which no doubt is absolutely true because of the stunning views, unique setting and delicious food.
But the restaurant's very private atmosphere and spacious interior is also a great place for all sorts of business meetings which require a certain level of confidentiality (don't they all!?).
Even if it's not for a meeting, what better way to rejuvenate yourself before heading home after a long day of work than at Sky 360, chowing down on a filet mignon that melts in your mouth while overlooking the beautiful views of Calgary and beyond? I can't think of any, can you?
5:00pm with last seating at 9:00pm Sunday to Thursday and 10:00pm Friday and Saturday.

Address – Calgary Tower – 101 9th Avenue SW

Phone Number – 403-532-7966
I Love Downtown Calgary
Downtown Calgary is the beating heart of our city. It's where more than 230,000 people work on any given business day and is only getting bigger and better with several office space developments underway.
Will these new buildings bring in even more delicious restaurants to downtown Calgary!? It's very likely, now we will all just have to wait and see!
---