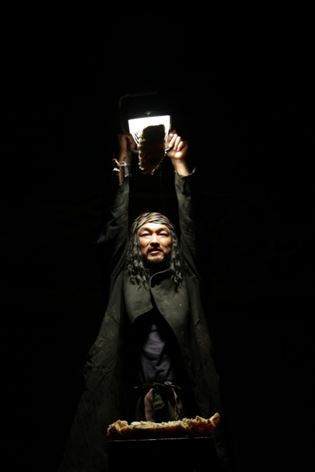 Fire Exit Theatre's production of Subway Stations of the cross isn't your typical theatre performance. It's Ins Choi (playwright of Kim's Convenience) creation, inspired by his interactions with faith based spoken word poetry across the country. The play tells a homeless man weaving teachings of god and faith on a subway platform, through spoken word poetry and song.

Choi, on stage and clad in multiple layers weaves humour and charm into his poetry. He blends compelling stories in rhyme and it captures the audience's attention. He makes references to Star Trek and Superman, meshing contemporary ideas with religious teachings. His 80′s sitcom song is filled with references, most of which went over this reviewer's head, but I'm told that they were great.
Choi produces chalk, bread and wine and uses them throughout the performance. He performs spoken poetry based on the concept of forgiveness and repentance. His song 'What if Jesus came back' is a gem.
The only aspect of the performance that doesn't work is Choi's struggle with his technical sound equipment. He does manage to cope, unplugging and plugging in his instruments, but hopefully this glitch can be worked out for other performances.
Subway stations of the cross runs only until October 6th. Tickets are available online.
---