September is shaping up to be a delicious month.  With all of the summer bounty being collected, there are a number of special (and tasty) dining options being offered up.
TOMATO FESTIVAL AT MURRIETA'S 
If you're anything like me, not much can beat a fresh tomato! Luckily, Murrieta's is hosting their 4th Annual Tomato Festival for the month of September.

Menu options include: Fried Green Tomatoes with Lemon Thyme Olive Oil, Poached Egg, Grana Padano, Micro Greens; Heirloom Tomato Salad, Corn & Avocado Salsa, White Truffle Dressing; Roasted Sablefish, Charred Tomato Compote, Tomato Basil Butter Sauce; Heirloom Tomato Pizza, Bocconcini, Roasted Garlic Tomato Sauce Smoked Sea Salt; Spiced Tomato Dusted Marlin, Cous Cous, Rosato Jus, Watermelon & Cherry Tomato Salsa; Whipped Tomato Grilled Cheese, Roast Garlic & Tomato Whipped Cream Cheese, Crisp Pancetta, Sourdough, Tomato & Gin Soup.  I may be drooling as I type this
BEAKERHEAD MIXES FOOD AND SCIENCE
Beakerhead, an exhibition and celebration of art, science and engineering, will hit streets and venues across Calgary for the first time ever between September 11-15th, and it looks like an incredible lineup of interactive events and activities to experience. They have even brought dining into the equation with a few of their events.  God love 'em!

You can learn more about Beakerhead at their Pop-Up Breakfast on September 11th from 7:00am-9:00am at Suncor Energy Plaza (111 - 5th Avenue SW).  This free event is the first of the festival and all are welcome to attend.  More details here.
They also have another unique dining opportunity ready for those who are adventurous at heart.  Engineered Eats takes place at a number of bars and restaurants including downtownfood, Charcut Roast House, and Mango Shiva.  Experience something new when the chef and bartender become scientists! Find out more here.
BACK TO SCHOOL!  COOKING SCHOOL, THAT IS
If you're looking for a fun evening spent learning how to cook some delicious items for yourself, then check out the awesome line up of evening classes offered at the SAIT Culinary Campus this September.
Some of the classes offered include: Introduction to Cooking, Knife Skills, Cake Decorating, Buttercream Basics, Sushi, Soups and Stocks, Artisan Bread, Sauces, Canning, and (most importantly) Chocolate.
LOBSTERFEST AT CEILI'S
Why didn't the lobster like to share?  Because he was shellfish.  Baboom!
If you love lobster you're in luck this September, cause Ceili's on 4th is hosting a Lobsterfest on Saturday, September 14th.  Dinner includes a 2lb lobster dinner with all the fixings, plus a pint of Alexander Keith's. This event sells out each year, so you're advised to get your tickets early.
If you miss this fabulous offer, or go and decide you need to do it again, Ceili's on 8th will have their big Lobsterfest feast on the following Saturday, September 21st.
THE REALLY, REALLY LONG TABLE DINNER
Calgary's favourite foodie paper, City Palate is celebrating 20 years with 20 different events, one of which is the much anticipated Really, Really Long Table Dinner.  Join 239 of your closest friends on Monday, September 16th on Stephen Avenue Walk for the longest long table dinner that Calgary has ever seen.   Seven fantastic restaurants, five delicious courses - how could you possiblly go wrong?!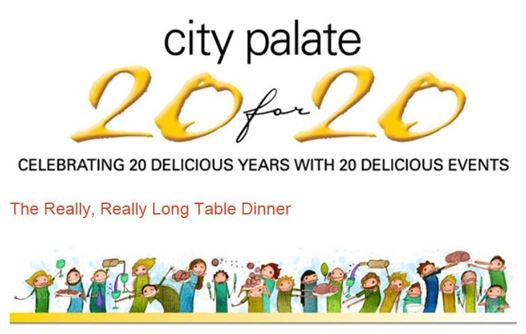 Participating restaurants include Blink, Catch & The Oyster Bar, Charcut, Divino, Teatro, The Belvedere, The Cellar and Trib Steakhouse.  Tickets are available with or without wine pairings. More information and tickets can be found here. Proceeds from this event will go to the Calgary Red Cross for flood relief.
For more information on dining in downtown Calgary click here.
---