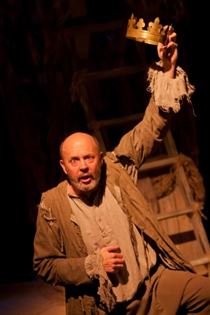 The Shakespeare Company's When That I Was  is like a compilation of Shakespeare's work. It features lines from King Lear, Romeo and Juliet, and Hamlet, just to name a few. The play tells of Jack Rice (Christopher Hunt), a retired and aged actor from Shakespeare's troupe, in a crumbling theatre, hiding from the Puritans who have banned theatre and booze. The audience is then eased by Hunt's expert hand into his telling of what it was like being an actor on Shakespeare's stage.

From here we start to become familiar with 'Uncle Will' and the characters who played small and big roles in his life. His relationship towards his work and the inspiration for his poetry. The audience also gets to explore with Hunt, the warm tale of Jack Rice and his affinity for playing women on the stage. We see him at the peak of his career, playing Lady Juliet and Ophelia and we follow him as he drinks and his skills as an actor decline.
The narrative is rich and full, and isn't without its comedy. Jack Rice tells of how his father died of a sore throat and then goes on to explain that he died by hanging. With no lack of charm, Rice will say that 'in acting, a pause is most effective.' The audience has the good fortune to get to know William Shakespeare through Jack's eyes, his love and lust and expert handle of the words that eased from his pen.
It is no mystery that Hunt was the recipient of a Betty Michell award for this performance in this play when it premiered in 2011. He is warm and charming as he plays all the characters on stage. It is because of his skill, that the cloth that represents Shakespeare's son is brought to life.
The sound design by Peter Moller grounds the play, allowing Hunt to play off the sound of the rain trickling outside, or the sound of dogs barking in the distance, or the Puritans checking to see what's going on. Terry Gunvordahl's set is adorned with strings everywhere, giving the sense of an abandoned theatre that is allowed to come to life with Hunt at the helm. The electric candles are a nice touch, adding to the atmosphere.
When That I Was is a warm tale that weaves Shakespeare's life and his work into one full narrative. It's a Shakespearean night at the theatre. Without the old English.
When That I Was runs until June 3rd in the Studio at Vertigo Theatre. Tickets are available online.
Photo Credit: Benjamin Laird Photography
---