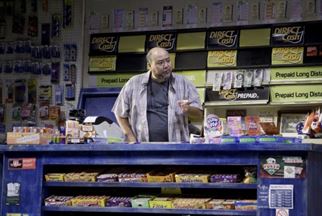 Mr. Kim owns a convenience store and is thrown off when Mr. Lee comes in and offers to buy his store. 'What's your exit plan?' he asks, and clearly Mr. Kim hasn't thought about it. This is the beginning of Theatre Calgary's Kim's Convenience, a comedic tale of a Korean immigrant family making it work in the hustle and bustle of Toronto.
The play tells of  Mr. Kim (Paul Sun-Hyung Lee) who, once he realized that he doesn't have an exit plan, starts looking to his daughter Janet (Esther Jun) to take over his convenience store. His son Jung (Ins Choi, who also wrote the play) is no longer in the picture though he does see his mom (Jean Yoon) at church every once in a while. The play tells of this splintered family who have different visions of their story and what it means to be successful. Janet, who is 30 years old and still lives at home, doesn't want to take over the store. She's a photographer who her mom describes as 'single and ready to mingle.' Over the course of the narrative, she meets Alex (Andre Sills) a former friend of her brother's.
Kim's Convenience is a charming story of parents who sacrifice a lot to give their kids opportunities that they never had. It's funny and well acted, especially Lee who puts forward a great performance as Appa, ('Father' in Korean). Lee portrays the stubborn and comedic role with great nuance, though sometimes his timing is a little off, as the opening saw lots of laughter. Jun as Janet is also quite good in her comedic role, especially in her interactions with Alex. Sills embodies his role as Alex and the customers who walk into the store, but his role as Mr. Lee comes off as scripted and flat. It seems like he's announcing his lines as opposed to interacting with Lee on stage.
It's all played out on a great set, designed by Ken Mackenzie, of a convenience store with all of the items on the shelves and products in the fridge. The play features sound design that integrates seamlessly with the narrative, allowing the audience to focus on the story.
The play is funny, in its cultural commentary and delivery, especially when Mr. Kim is explaining to Janet how to spot who will steal from his store and who won't, depending on their race and sexual orientation. Or when Mr. Kim is literally twisting Alex's arm to propose to Janet and later claims he was supervising. It's funny, but a little far fetched. There are portions of the narrative that play out in the realm of unrealistic, but the story is rooted in the truths that exist in all families, like how parents have an idea of what their kids should be when they grow up and what success is. Kim's Convenience is a fascinating comedy that's a lot of fun to watch.
Theatre Calgary's Kim's Convenience runs until September 29th. Tickets and more information is available online.
Photo Credit: Kristian Jones
---