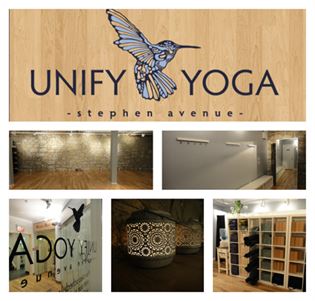 Have you ever wished you could step out of your busy day, and into a little sanctuary? Ya, me too. Enter, Unify Yoga. This beautiful new yoga studio in Fashion Central is working to remove obstacles to practicing yoga, and offer downtown dwellers and workers an accessible, convenient  place to relieve everyday stresses and take some time for their own physical, and mental wellness.
Anita Athavale opened this studio at the beginning of October with a strong team of highly trained teachers who all respect the studio's goal of offering a quality, accessible yoga pratice. I was thrilled to sit down with Anita and talk about the needs that the studio is filling here in Downtown Calgary.
Anita has spent many years sharing yoga in corporate settings, which she acknowledges the value of, but also sees the need for people to get out of their production oriented environments and take some time for themselves. Anita's goal is to help everyone find time to practice, without sacrificing other commitments or activities. Unify Yoga is making it easier for all of us to improve our quality of life.
Unify is a small studio offering classes that are traditionally based, but also have modern and mixed styles. There are currently three class offerings daily, including an hour long lunch time class every weekday. While there are currently no offerings on weekends, this offers space for registered classes and workshops down the road.
Whether you've never tried yoga before, or have been practicing for years, you will feel welcome at this studio. The beautiful wood flood and exposed brick (sandstone?) give Unify a wonderful feeling - it is truly an excellent place to step out of the busy world around you, and enjoy some 'me' time.
New students can try an unlimited month at Unify for just $55 - a great way to get to know the studio and teachers. Get more info about classes and prices online, and follow Unify on Facebook and Twitter.
---