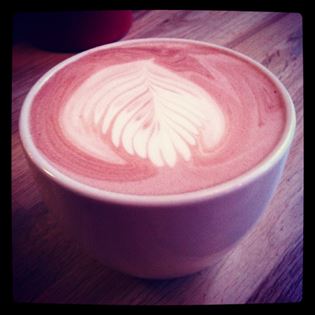 The last time I drank coffee, it made me dizzy for two days straight. While I love the comforting aroma of brewing coffee, and miss being able to sip a vanilla latte, I've decided it best to simply stay away from coffee itself. With that in mind, meeting for a 'coffee date' or meeting at a coffee shop often leaves something to be desired. For those of us who don't drink coffee (I know I'm not the only one!), or who might be looking for a break from their usual caffeinated beverage, a few suggestions of lovely downtown location where you won't feel like a pariah for ordering not coffee.
1. David's Tea
So, full discolsure, I'm a sucker for David's Tea. When a friend introduced me to their 'hang-over cure tea' a few months ago, I immediately developed a sense of gratitude for, and intrigue about David's Tea. Their selection is nothing short of amazing, ranging from the basics all the way to dessert teas (red velvet, anyone?) and medicinal (long life oolong is one of my favorites!).
At their Stephen Ave location, you can purchase as much loose leaf tea as your heart desires, or have them brew a cup right there for you. Whether you're warming up in the winter, or adding a tropical twist to your summer day, David's Tea has got it going on.
They also sell mugs both for your at home or on the go enjoyment – many of which come with a handy tea strainer built in!!
Us non coffee drinkers often miss out on the joys of a latte – specifically the pretty design on top (just me?). On my first trip to DeVille coffee, I felt a bit overwhelmed with the menu, not seeing many options that didn't involve espresso. Upon inquiry, I ended up with a hazelnut hot chocolate – complete with a beautiful leaf design on top. I was thrilled at both the presentation AND the taste. Not overly sweet, just the right balance of milky goodness and hazelnut flavour. Well played, DeVille. I'll be back, again and again!
DeVille boasts two downtown locations – 801 1st Street - tucked just off of Stephen Ave (in Fashion Central, just behind David's Tea!), and another in the current Art Central Building and Centre Street & 7th Ave. DeVille Coffee made the list of tops spots for coffee downtown on this very blog  not so very long ago, so they certainly have their bases covered.
3. Caffe Rosso
With the downtown location along Stephen Ave in the Telus Convention Centre, Caffe Rosso has a booming business – yet with no compromise on service or taste. Their chai tea latte is perfectly spiced, and the teas that they offer are top notch. While I can't consume it, I appreciate the fact that they roast their own coffee, and place emphasis on local ingredients.
If you ever need a quick and delicious lunch along with your hot beverage, Caffe Rosso's Panini style sandwiches are fresh and excellent, and I have yet to be disappointed by their daily soups.
Have a favorite non-coffee destination to add to the list? Let us know!
---