After three years of living in Calgary, my mama is coming to visit. Yay!  I guess this means she's finally accepted the fact that I won't be heading home any time soon, so now's my chance to make her fall in love with Calgary and talk her into moving here. Heh, heh, heh.  Here are six of the fun things we hope to do with her.
1)  Death by Chocolate at the Fairmont Palliser
A jaunt through the Palliser during the holiday season is a must-do in my book. It's always decorated so beautifully and there's an ambiance there that you'd be hard-pressed to find anywhere else in Calgary. The place oozes history, elegance, and chocolate. Yep, chocolate!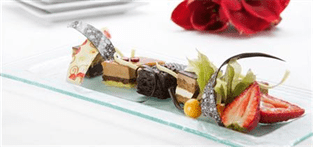 If you'd ever dreamt of dying and going to chocolate heaven, then you will appreciate this. Each Monday night from 5:30-9:00pm, the Rimrock at the Palliser hosts an incredible dessert buffet.  This Monday, November 25th will be their last one before the holiday season.  For more information on this decadent treat click here.
2) Sushi at Ki
Since sushi dates are kind of our thing, and were often a weekly occurrence back home, so it's only natural that I'd take her to my favorite spot in the core, Ki Modern Japanese. The food is excellent, the location is gorgeous, and the staff are very friendly.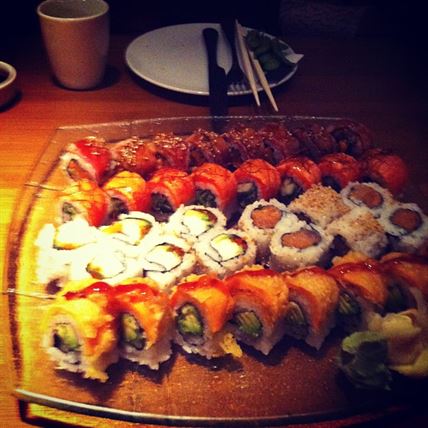 You can choose to go traditional, or try one of their more unique items with a twist, like the tempura dragon bacon: three strips of bacon served with their black bean dragon sauce, or rice + shrimp: steamed shrimp in rice paper with avocado and asparagus, with a kimchee lime sauce.   If you're not a fan of the raw stuff, don't worry!  There are plenty of fully cooked items to choose from, like their honey-ginger pork chops with green beans and kabocha mash, not to mention the creative cocktail menu.
3) Theatre Calgary's A Christmas Carol
Theatre Calgary's holiday classic opens on November 28th and runs until December 24th.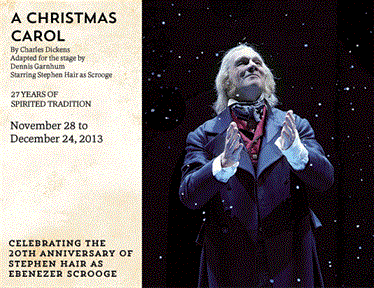 I have not had the privilege of seeing this production yet, but it has been on my list since I moved here.  I can't think of anyone better to see it with, especially since we won't get to spend Christmas together this year.  More information can be found here.
4) Sit fireside at the River Café
It's the time of year when it's just so lovely to cozy up by a fire and indulge in a good chat and some comfort food. The River Café is the perfect spot, nestled in Prince's Island Park, which is currently a beautiful white winter wonderland.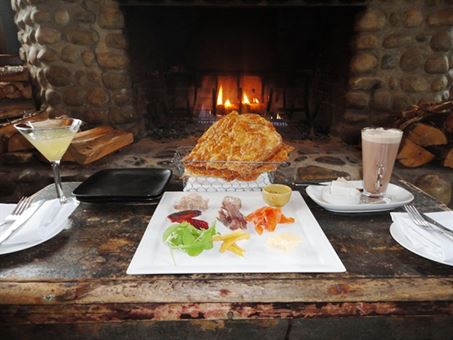 I've already scanned the menu, and the "Small Wonder Spaghetti Squash" with chanterelles & porcini, onion brulée, hazelnut, rosemary, and brown butter is screaming my name.  The Noble Farms Duck Breast with cider roasted parsnip, Brussels sprouts, French lentils, and blueberry mostardo is running a close second.  I can remember sending my mom photos of the River Café during the flood, and telling her how sad I was that such an amazing place was impacted so terribly.  Being able to take her there now, and support them after such a rough go just means that much more.
5) Visit the Glenbow Museum
A trip to Calgary wouldn't be complete without visiting the local museum.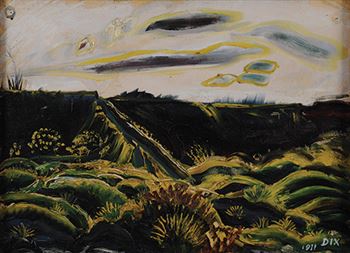 The Glenbow's current exhibitions include: Transformations: A.Y. Jackson & Otto Dix, Made in Calgary: The 1980s, and From our Collections: War in the Trenches, all running until January.  More details can be found here.
Where do you like to take your out of town guests?  If you have any suggestions we'd love to hear them!
A couple of our other bloggers Kait Kucy, and Matthew Ryan also had some great ideas on things to do earlier this month, click on their names to learn more.
---