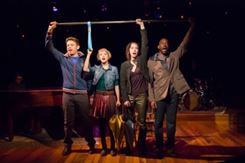 Canadians don't use the online classifieds Craigslist as much as they use Kijiji, and though Kijiji has some interesting postings, they have closed their personals sections. Which quite frankly is the more interesting section.
Alberta Theatre Projects and One Yellow Rabbit's presentation of Do you have what I have got? A Craigslist Cantata is a compilation of listings on Craigslist, composed to music.

The musical features some catchy compositions, detailing the listings one can find on Craigslist. Everything from 'Bus Boyfriend, I just want to smell you again', to 'Free Sponges, on my porch.' The songs in the play are entertaining and fun. The range between the different ads is intriguing. It is all pulled off quite nicely by the cast, complete with an onstage percussionist and pianist.
The play looks at the cycle of giving away items and acquiring them. It delves into the most odd and weird of the ads, (I will pay you a dollar to sit in a bath tub of noodles) and (various kinds of cat hats available for free) and these cause the audience to wonder who are these people who post these ads?
The cast members have strong voices, most especially Bree Greig. Qasim Khan stands out for his energy and movement on stage. His dancing is most engaging. Also of note is Kimberly Purtell's lighting design, giving the Martha Cohen stage a contemporary feel with lanterns hanging from the ceiling.
Do you want what I have got? A Craigslist Cantata is a fun musical, complete with great voices and high energy. It isn't deep probing, thought provoking theatre, just a fun night out.
Do you want what I have got? A Craigslist Cantata is part of the High Performance Rodeo. Tickets and more information are available online.
---