Another Skyscraper Boom in Downtown Calgary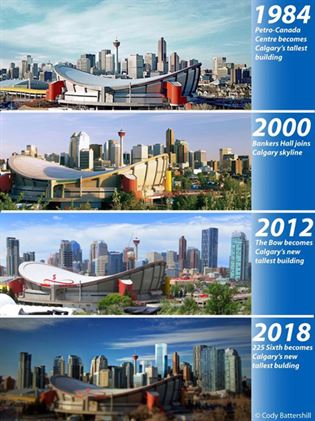 Downtown just keeps getting larger, and larger. Or should I say – it's getting more office space? While the boundaries of downtown Calgary are well defined, the area keeps on getting "bigger" in terms of the millions of square feet of office space being added as of late through several new skyscraper construction projects.
Before the 1970's, tower construction in Calgary was quite limited to only a few buildings such as the Fairmont Palliser Hotel (1914), and Elveden Centre (1959). From the mid 1970's to 1990, however, Calgary entered its first major skyscraper construction boom. During this time several existing downtown skyscrapers were built, including:

Bow Valley Square 2 (1975)

Fifth Avenue Place (1981)

First Canadian Centre West Tower (1982)

Western Canadian Place North Tower (1983)

Suncor Energy Centre East Tower (1984)

Bankers Hall East Tower (1989)

TD Canada Trust Tower (1991)
…many of which have become overshadowed by the sophisticated design and sheer height of Calgary's most recent skyscraper developments to be built in the city's second major skyscraper construction boom – from the late 1990's to the present day. Learn more at the History of the Calgary Skyline.
A New Day, a New Skyline
Presently, as our nation's energy hub, and with the largest concentration of head offices per capita in Canada, commercial developers are eager to invest in Calgary's future.
Current projects and their expected completion dates are:
Eighth Avenue Place West Tower (2014)

Calgary City Centre (2015)

First Canadian Centre East Tower (2017)

Manulife Financial Tower (2017)
Also in the mix are pending projects, including Palliser West, Palliser East and The Bow South Tower. The recently completed Bow Tower and Eighth Avenue Place have definitely raised the bar for new developments when it comes to aesthetic appeal and innovative design. Our skyline is beautiful to look at and competes well on a global scale.
*Sourced from CBRE.com, Calgary Economic Development
The Future Skyline
While the economic situation here in Calgary and Alberta isn't without its challenges, the construction of several downtown skyscrapers shows that these development companies do have faith in the consistency of our local economy for years to come.
As a born and raised Calgarian, I too have faith that our city will continue to prevail as it has even while other parts of Canada and the world experience slower growth. Canada is a leader both economically and in quality of living.
Join Us
Want to know more about Calgary? Come, and join us at Calgaryism on Facebook, Instagram and Twitter today. We hope to see you there!
---