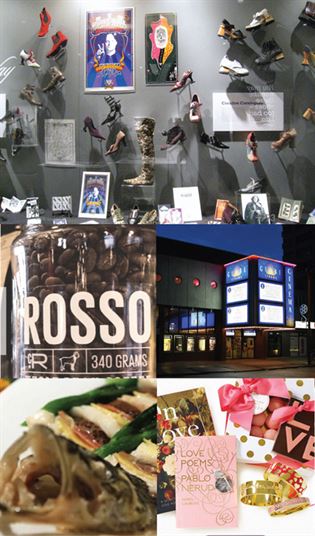 While the Calgary Stampede or business conferences is what brings most travellers to our fine city, there is so much more to Calgary than pancake breakfasts, steakhouses and cowboys. In fact, I wouldn't say that any of those three things define our city at all (though the pancake breakfast are pretty amazing).
Next time you have visitors stopping through Calgary feel free to take them to the top of the Calgary Tower but also show them another, less seen but pretty darn awesome side of our city. I've rounded up five of my favourite downtown gems that are the kind of places that I look for when visiting cities like San Francisco, Seattle or New York.
Dim Sum in Chinatown at Silver Dragon Restaurant: You can't beat an awesome dim sum meal with good friends. Calgary's Chinatown has many great dim sum joints but Silver Dragon is definitely a favourite among many. Order at your table or stop the dim sum trolley when it rolls on by with some of the tastiest steamed pork buns and potstickers.
Movies at The Globe Cinema: Who doesn't love seeing amazing independent films? The Globe Cinema on 8th Avenue is one of the only places in the city that you can guarantee excellent film programming. With matinees on Saturdays and Sundays, you'll be chuffed to spend the afternoon with a bucket of popcorn and some Twizzlers.
Shoe History at The Fluevog Museum: Lovers of shoes will love stepping into John Fluevog's pride and joy - a mini museum dedicated to the history of Fluevog shoes. If you know Fluevogs, you know these aren't just any shoes. Their wild and wacky history continues today in their boutique. They often have cool art shows in their basement gallery so be sure to look around when you go.
Lattes at Cafe Rosso: One of the best coffee shops in Calgary, Rosso will keep you happy with their locally roasted beans. The Stephen Avenue location always has a rotation of fantastic artists on the walls and it is the perfect way to pass sometime. The people watching is top notch.
Looking for books at Indigo Books + Music: While independent bookstores seem to be a thing in the past in the core of Calgary, even big bookstores seem to be threatened. I love hitting up the Indigo at The CORE to peruse the magazines, their great home decor + lifestyle section and of course, the latest book releases.
---