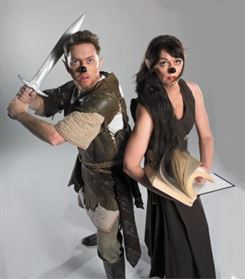 When Rebecca Northan first pitched Alberta Theatre Projects for the Enbridge playRites Festival, Artistic Director Vanessa Porteous responded by saying that she would be more interested in having Northan going further with what she learned from Blind Date. Blind Date was Northan's greatly successful improvisational theatre piece, where Northan chooses a member of the audience to perform a blind date with her on stage.

This lead to the creation of Legend Has it which brings back the original cast of Blind Date and incorporates an audience member, chosen at random, to be the hero of the show. It's the story of a brother and sister, who find an ancient scroll that prophesies the coming of a hero from an ancient land (in opening night's case it was Nenshi land) who will help save the world.
The play is all about fun. From the masks and creative set design, to the improvisational commentary that runs as an undercurrent throughout the play. To say that being the hero of the play is intimidating for our audience member is an understatement. What story is being told is all dependent on the choices our hero makes and what path he or she decides to choose. Opening night saw Mayor Nenshi captured and a tree fall apart on stage, prompting the guiding spirit (Rebecca Northan) to exclaim that the land was so full of evil, even trees fall apart.
The ensemble does a great job and particularly of note is Mark Meer as the evil sorcerer. His costuming and makeup are perfect in making him quite evil looking without coming off as cheesy.
Legend Has it is a different show every time and in very charming in its execution. It makes it for a great theatre piece for younger audience members. It isn't deep, thoughtful theatre, but it is charming fun.
Legend Has it is part of the final Enbridge playRites Festival. More information is available at atplive.com
---