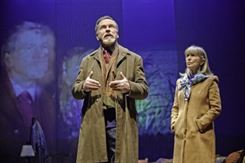 You Will Remember Me is a play about losing your memory and therefore your identity. It tells of a man suffering from Alzheimer's and feeling like he has 'one foot in the void' and he isn't sure when his other foot is going to follow. Alberta Theatre Projects' presentation of You Will Remember Me is part of the final edition of the Enbridge playRites Festival, and it is a lovely way to kick off the festival
The play tell of Edouard (Duval Lang) a feisty former professor who is quite cynical about the human race and the emergence of new technology like the internet and social media, who is also suffering from Alzheimer's. His wife Madeleine (Maureen Thomas) has had it and can't manage to take care of Edouard anymore so dumps him on her daughter Isabelle (Kate Newby) and her new partner Patrick (Geoffrey Pounsett). When it all gets too much for Patrick he pays his daughter Berenice (Katey Hoffman) to take Edouard off his hands so that he can go play poker with his pals.
The thread that keeps You Will Remember Me together is Duval Lang. His performance is so very well done that you feel his breaking apart on stage. His struggle to hold on to pieces of his memory. Lang is a powerful, quiet force within this play. The rest of the cast put forward very strong performances as well, with Newby playing the emotionally charged Isabelle and Thomas pulling off the mother who just can't do it for her husband anymore.
It's all performed to a backdrop of sheer hangings, designed by Scott Reid and projections designed by Corwin Ferguson. At some points, especially when the cast is beneath a starry sky, the projections in the background are quite nice. But the shots of Lang and Thomas together serve more as a distraction and are quite unnecessary. This overuse of projection design has been a theme in past playRite shows.
Mike Gesy's sound design bordered on bland as the same design closed every scene, regardless of what transpired in the scene.
You Will Remember Me is a engaging piece of theatre, that looks closely at the challenges on the family of having a loved one suffer from Alzheimer's. It runs a subtle commentary on palliative care and is an intimate look at the devastating effects of Alzheimer's.
You Will Remember Me is part of the final Enbridge playRites Festival. More information is available at atplive.ca
Photo: Duval Lang and Maureen Thomas
Credit: Brian Harder
---