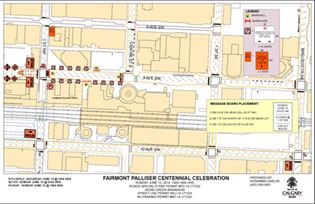 ROAD CLOSURE NOTICE: 9th Avenue between 1St Street & Centre Street S.W.will be closed to traffic on June 15th between 7am and 6pm
On June 15th, the Fairmont Palliser Hotel will be hosting an Afternoon Tea Dance on 9th avenue.
The event will take place on the hotel's front street on 9th Ave. between 1 St. and Centre St. S.W and be closed to vehicles from 7 a.m. until 6 p.m.
The public is encouraged to come down and enjoy the dance, and have some birthday cake to celebrate the Palliser's 100th birthday. Don't know what to wear? Our blogger Kait put together a great post on fashion advice for the occasion.
For more info on the street dance and road closures, see this PDF or check out the Fairmont Palliser website or Facebook page.
---