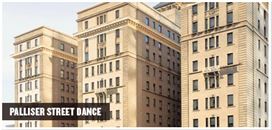 Fairmont Palliser Centennial Afternoon Tea Dance
June 15th, 2014 2pm to 4pm -
On June 15, the Fairmont Palliser hotel will host a grand Afternoon Tea Dance on the hotel's front street, 9th Avenue S.W. from 2 – 4 p.m. The public is invited to attend this free outdoor event. The program commences at 2:15 p.m., when members of City council will preside over a ribbon cutting ceremony at the hotel's main entrance. Immediately afterward, birthday cake and tea will be served inside the lobby, where swing music by Summit Big Band and dancing by Toe Tappin' Swing will get the crowd going. No need to register, just bring your dancing shoes to 9th Avenue at 2 p.m.!

Honens Bison Noir
June 14th & 15th -
After seeing Cabaret Contemporain groove at its New York debut earlier this year, Honens couldn't resist inviting the Paris-based electro-acoustic-techno-meets-acid-house ensemble to Canada for the first time. Honens Laureate Hinrich Alpers and Cabaret Contemporain both unleash the world of composer John Cage in this season closer. A resounding hit at Honens 2012, Honens Bison Noir brings 'cool' to Calgary's classical music scene.

Into The Woods
Until June 14th -
INTO THE WOODS tells the story of a childless baker and his wife as they endeavour to lift their family curse by journeying into the woods. There they encounter Rapunzel and her witchly "mother", Cinderella, Jack (of Beanstalk fame), Little Red Riding Hood, and other classic fairy tale characters, as they all must learn the responsibility that comes with getting what you want. With quick wit, interweaving plot lines, and complex heartfelt music, INTO THE WOODS brings new meaning to the phrase, "Be careful for what you wish for."

Weekend at the Museum
June 14th & 15th -
Celebrate Masterworks from the Beaverbrook Art Gallery with the instructors from Storybook Theatre. Act out a scene from a classical painting and learn some basic stagecraft skills at the same time. Also included is a fun stained-glass activity and learn about the fantastic glassworks in Bee Kingdom: Iconoclasts in Glass. Take a page from the book of Eric Harvie and curate your own mini art show. All this plus hands-on art activities, behind the scenes tours and so much more!
---