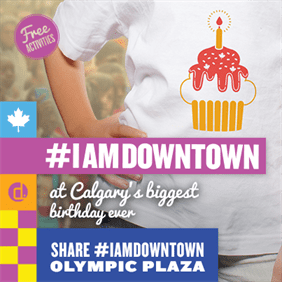 O Canada, we stand on guard for thee! But on Tuesday, July 1st we take a break from that guard and we PARTY!
This year, Downtown Calgary wanted to pull out all of the stops and make Olympic Plaza the place to be, so we've decided to throw Calgary's Biggest Birthday Party Ever!
If you were born on July 1st, you already know that it's not a great time to celebrate your birthday. Sharing your birthday with a celebrity is fun, an entire nation can be a drag.
If you were lucky, your teacher would make your class sing 'Happy Birthday' to you on the last day of school  along with the other summer babies. If you were unlucky you've had to reschedule your birthday party more than once to accommodate the summer vacations, beach days and camping trips of your friends. The only real consolation is the inevitable fireworks, and a statutory day off work!
We've felt your pain and we've decided to help with Calgary's Biggest Birthday Party Ever! Just come down to Olympic Plaza on July 1st with a piece of ID showing it's your birthday, and you'll automatically become a BIP (birthday important person).
In addition to all of the great FREE, fun and interactive family activities happening in the area, you'll be granted exclusive access to the 'BIP tent' packed with free goodies and prizes. We'll also have a birthday cake, large enough to feed all the birthday boys and girls (of any age) and a few hundred of their friends on site.
It doesn't matter where you were born or what year, we want to celebrate your birthday in style. You can bring your entire family down as there are tons of FREE activities available for children and adults of all ages.
Additionally, we'd like to announce that the Calgary Parking Authority's gift to Canada on it's 147th birthday is FREE parking in all 7 downtown Calgary Parking Authority Parkades!
Yes, you read that right! Street parking and parking in any of the 7 downtown parkades will be free on July 1st. Calgary Parking Authority surface lots will operate with the Holiday rate (max $2 in most lots)*
FREE Events happening 11am to 4pm
Biggest Ever Birthday Party - VIP tent and Birthday Cake 12:30pm – 1:30pm CAKE TIME!
Gymnaestrada performance

These national gymnastic groups will be performing 11am – 12pm and 1pm – 2pm

Green Fools Social Circus

Free circus training every hour on the hour
Drop your kids aged 8 – 17 off for a 40 minute session learning circus skills from professional instructors. Free. First come first serve.

Jumpzone - Jump on safe, springfree™ trampolines, free.

Have a bounce on these enclosed, trampolines

The Buffalo Herd Interactive Native Art by Terrance Houle

Create your own artist inspired punk rock T-shirt

Calgary Youth Chorus

Performs their newest show: Alberta Bound! A high energy show that will get your family moving and grooving along in this truly "all Canadian family experience"

BeatDrop DJ camp (free)

Teens! Learn to DJ from Beat Drop's mixing and scratching experts

Crazy Family Dance Party from 3pm – 4pm

End our day of fun and cut footloose with our crazy family dance off – anything goes!

#IAMDOWNTOWN Picnic Zone

Borrow one of our #IAMDOWNTOWN picnic blankets to enjoy your BYOL (bring your own lunch from home or grab some grub in the area) and watch the kids having fun.

3ft Tall Stage featuring Mr Rayz and Wagon Stage

A treat for the little ones with appropriate children's entertainment for the tots and pre-schoolers

Snacks will be available from Carne and other food vendors in Olympic Plaza, as well as the various selections along Stephen Avenue
Plus much, MUCH more!
Did we mention this is FREE and completely open to anyone young or old who wants to have a blast on Canada Day?
 *Note regarding FREE parking: Free parking is offered by the Calgary Parking Authority in CPA owned downtown parkades only. Parking lots and parkades not owned and operated by the Calgary Parking Authority are not included in this offer. Please see the Calgary Parking Authority website for more information on the specific lots.
---