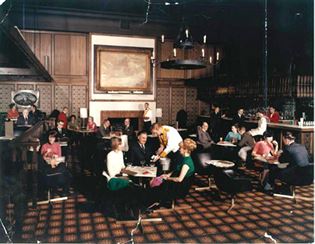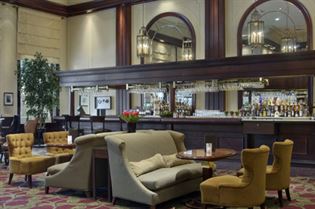 (note: there is a road closure on 9th avenue for this event. More info)
The Palliser Hotel's Centennial will be celebrated this weekend with a big-band dance and tea party (a FREE public event I encourage you to attend in your most dapper swing-era togs), so what better iconic building to look back at for Throwback Thursday?
The mighty Palliser with its three grand towers, was the first skyscraper in Calgary when it was built in 1914. This testament to the grandeur of rail travel was located alongside the CP Rail tracks when train tracks still actually moved people from one place to another. (Side note: I have a vivid memory of meeting my grandmother at the Palliser when she arrived from Regina for a visit in the early 70s. An incredibly classy lady, she wore a fur stole to compliment her smart cloth coat, and she always smelled like Blue Grass Perfume).
What makes this Throwback Thursday so special is how little the Palliser has changed. Stepping into the lobby, you are transported to another time, and the history is palpable.
Picture this: It's 1924. As a member of the General Association of Women's Clubs, you are traveling to Calgary to hear Nellie McClung speak at the Grand Theatre for the Women's Club of Calgary. You check-in and your leather valise is dutifully carried to your room by a neatly attended bell hop. Returning to the lobby for a cocktail in the Oak Room Lounge (proudly displaying Alberta Liquor Permit #1, issued immediately following prohibition), you eavesdrop on ruddy mustachioed gentlemen who are loudly discussion trade of cattle, or new oil discoveries. You partake in high tea, french rolls and finger sandwiches, and then step out to explore the sandstone buildings bustling with commerce on Stephen Avenue, or perhaps to walk along the river to the south through old Rouleauville. 
Visiting the Palliser's Oak Room lounge this week to sample their new Centennial Pale Ale (lovingly developed by local brewers Wild Rose), I could easily imagine the above scenario. In a city where history seems to drift away in favour of the newer and the shinier, it is so precious to have a place that can transport you to Calgary during that era.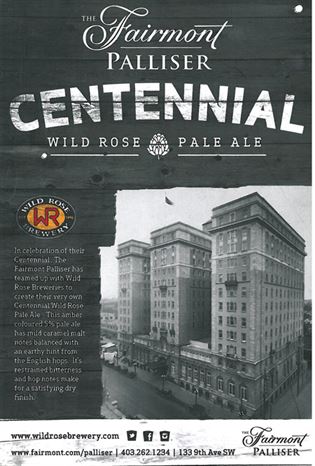 Cheers to you, Palliser Hotel, on your first one hundred years. You are a classy dame. Enjoy a few photos from days gone by.
Then: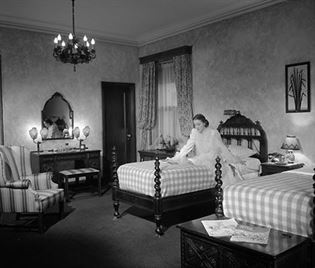 Now: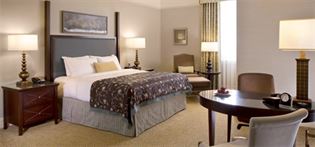 ---