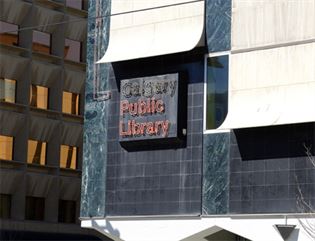 I'm a huge nerd and not afraid to admit it. Which means that even though its been the better part of a decade since I've gone 'back' to 'school' of any sort, I still get excited and feel life changes coming on every September. I find that this time of year is a little bit like New Year's, just with coloured pens and notebooks instead of champagne and fireworks.
I am also not afraid to admit that sometimes I miss structured learning. That is why I feel so lucky to live in a city with such an awesome library. The Calgary Public Library offers a bevy of interesting and unique programming every season, and this fall is no different. Check out my top five picks, and consult the CPL's program guide for even more opportunities!
Rockin' Your RRSP with Bruce Sellery
I know, I know, finances are THRILLING…. But honestly, many of us could use a little bit of help when it comes to navigating the waters of saving and investing, which is why I'll be hitting up this RRSP workshop with Bruce Sellery. Happening Thursday, November 27th. There will even be door prizes!
Toastmasters International: After Five
This well-known organization is an incredible way to improve your public speaking skills and confidence, network, and develop leadership abilities. Perfect for fulfilling those (September) New Year's resolutions! At Central Library on Tuesdays, starting in September.
If you've yet to experience the Awesome Foundation, this is a super cool way to check them out. Join fellow awesome Calgarians and see the top four finalists for $1000 micro-grants give their pitches on October's 'Thousand Dollar Thursday'.
This club is a great way to meet others in the art community, and explore different facets of the arts community. Meeting monthly at the Central Branch, this club is a great way to spend a couple hours on Saturdays – there will even be Christmas Card Creation in December – fun!
Another monthly club meeting on Saturdays at the Central Library, the photography club explores a different aspect of photography at every meeting. Learn something new and/or hone the skills that you already have.
Are you, or have you thought about becoming a Small Business owner? Small Business Tuesdays features expert guest speakers, business research presentations and individual business research support. Meets weekly!
For more program details and to see all of the event and programs happening at CPL this fall, visit their website. See you at Central!
Editor's Note: Information on Calgary Public Library program, clubs, groups and courses subject to change, sell out and reschedule. Please visit the corresponding websites to ensure availability.
---