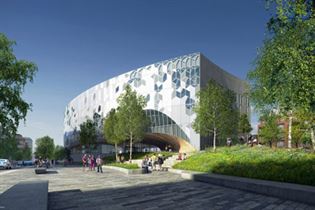 It's a new year, and with that comes new goals and resolutions. The Calgary Public Library has a new goal - to create the world's best public library for Calgarians.
As many people know, the downtown branch of the library is going to be rebuilt and will stand as part of the East Village revitalization. The 240,000 square ft. New Central Library is slated to open in 2018, one block east of its current location and is designed to be a multifaceted family destination and gathering place with a physical collection of approximately 600,000 books and specially designed space for programs and technology.
While we are all excited about the new library, 2018 is still a little ways away. That didn't stop the Calgary Public Library from making some great changes to start off 2015—including a new visual identity and announced the elimination of membership fees. Library cards are now free to all Calgarians!
There are a number of resources available to members in Calgary's 18 community libraries and online, including e-books, movies and online courses, and now they are FREE for all Calgarians. And they've removed room rental fees, too, so you or your group now have access to meeting space at no charge. What a great way to start off the year! Gym memberships always get a bump in January with a spike of 'get fit' resolutions, and why not get one to the library while you are trying to achieve the goal of overall self-improvement?
While we are all trying to work off all of the holiday treats on the treadmill and sharpen our minds with our new library memberships, the Calgary Public Library has shown us how to step into the New Year with a fresh look that captures the rich history of the Library, as well as its dynamic vision for the future. To be the best in the world, you have to look the part, and that is what the Calgary Public Library is doing. This video shows us the new visual identity of the library, and shares the role the Calgary Public Library plays in our lives, our communities, and in our city.
It would appear that the library is not only boasting a new logo, but also a new way for Calgarians to think about what a library is. The new library is a place for learning, discussion, invention and action, according to the video. All of these changes are able making the Calgary Public Library the best public library in the world for Calgarians. This just makes us even more excited for the impact the New Central Library will have on Calgary's downtown culture!
For more information about the Calgary Public Library's plan on becoming the best public library in the world and how to get your free membership, visit calgarylibrary.ca
---