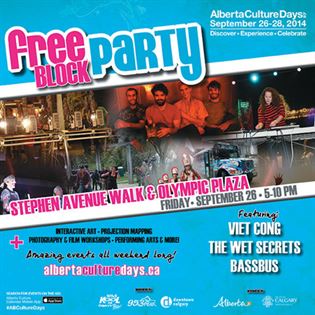 This is a lovely time of year for culture! The leaves change, and as summer turns to autumn, the fast and furious season of summer festivals makes way for the slightly more reserved performing arts season.
In commemoration of this changing of the seasons, there are two great events happening to give you one final taste of that outdoor summer festival fun!
Alberta Culture Days kicks off on Friday, Sept 26th with a FREE concert and performances happening at Olympic Plaza and Stephen Avenue.
Local indie-rock band Viet Cong will be performing alongside Edmontonians The Wet Secrets and the Bassbus will be spinning their brand of dance as well.
There will be dozens of other cultural events happening during the block party, so come down and see, hear and experience everything Culture Days has to offer.
Once the sun has set on the block party, Alberta Culture Days continue at various venues across Alberta! From downtown Calgary to downtown Nanton, the entire province will be brimming with culture!
RSVP to the Alberta Culture Days 2014 Kick-Off on Facebook.
Running concurrently with Alberta Culture Days is Doors Open YYC. This 2-Day event allows cultural patrons and other members of the general public to go 'behind the scenes' and access areas of remarkable locations not normally open to the public.
The event spans the entire city, with downtown venues including the SAIT Culinary Campus, Calgary Tower (events already filled sorry), EPCOR Centre, Cathedral Church of the Redeemer, Enmax Downtown District Energy, and the City of Calgary Municipal Complex.
While the Doors Open YYC events are free to the public, you will need to register for some events in advance to ensure entry. See the Doors Open YYC website for more information.
-
Are you a culture nut? Want to be the first to know about interesting downtown events? Sign up for the Downtown Calgary Events Newsletter!
---