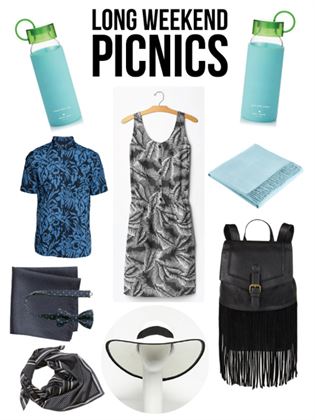 Can the long weekend get here any sooner? It is officially the second to last long weekend of summer so it is important to take control of your destiny and make it one to remember!
If you've read this blog before, you know how much of a fan I am of downtown picnicking. You can easily create an epic picnic experience all on your own, right in the heart of downtown Calgary. Whether you choose to picnic in Prince's Island Park, Olympic Plaza or the Devonian Gardens, you'll have a stylish time of it. I've put together a small guide of picnic-worthy clothing and accessories to make your long weekend outdoor dining, a beautiful experience.
Picnic Perfect:
This Kate Spade water bottle from The Bay is the perfect vessel for your picnic. Concoct your own iced tea or lemonade at home and use this to serve it up.
You'll need this Super Soft Throw from Indigo to cozy up on the grass at your summertime picnic. This long weekend is just begging for a super long lazy picnic in the sun.
The Black Fringe Backpack from Little Burgundy is perfect for toting all of your picnic essentials to your day camping spot.
Long weekend picnics are the ideal time to dig out your most gentlemanly attire. Not only will you impress anyone you are dining with but you'll also feel pretty great getting some good use out of that bowtie you impulsively bought earlier this year. Or if you still need to pick one up, this polkadot bowtie from H&M is more than adequate. Or if patterned shirts are more your thing, this one from H&M is picnic-ready!
Dressing like a tablecloth is actually encouraged while picnicking! So break out the vintage prints and gingham frocks for a weekend of dining al fresco. The Tropical Tank Dress from GAP is light and breezy - ideal for a summer day, lounging riverside with baguettes and fine cheeses. Tie back your hair with a classic bandana or take shade from the sun with a stylish and jaunty hat.
---