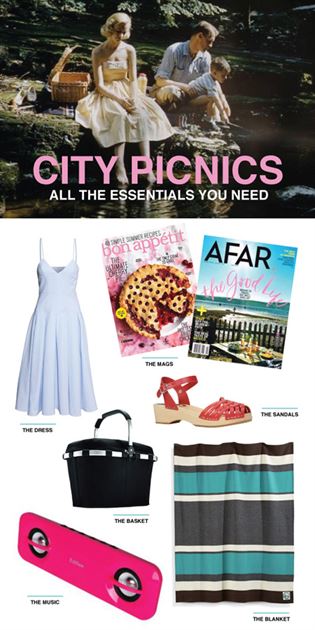 Picnic season is about to burst out in full force. Before you know it, those coveted tree-shaded spots in Prince's Island Park will be scooped up and you'll need to bring out the beach umbrella for a day in the sun. Of course, before you start planning your epic weekend of picnics you definitely need to pick up a few essentials to ensure you live comfortably on your day out in the park.
You can also check out the #IAMDOWNTOWN Pop-Up Picnics happening every other Wednesday at Noon. See our website for more info.
THE BASKET: You need the best picnic basket to plan the best picnic date! While the old favourite wicker baskets are great, they aren't the best for keeping your food and drinks nice and cool in the hot summer sun. This slick and stylish basket available at The Bay is perfect for keeping your tasty meal ready to eat.
Reisenthal Carrybag ISO Black, The Bay
THE MUSIC: Good music is an essential for any picnic worth it's salt. Pick up one of these cheap and cheerful MP3 players and hook up your smartphone with your favourite tunes. Who knows? Maybe an spontaneous dance party in the park will happen!
Edifier Portable Multimeda Player, The Source
THE MAGS: I always bring a couple of magazines with me to the park. Not only are they useful if the conversation gets boring but they also act as a perfect sun-blocker when you want to have a nap in the sun. Plan your next picnic with Bon Appetit and plan your next adventure with Afar magazine.
Bon Appetit + Afar magazines, Billy's News
THE DRESS: You always need a classic vintage-style dress for the most picturesque picnic. This pale blue cotton number from H&M is soft and breezy for even the hottest of days.
Blue Cotton Dress, H&M
THE SANDALS: And of course you need some great looking sandals to pair with that dress. These classic red Swedish Hasbeens are perfectly cute for perching on a picnic blanket with good friends.
Red Swedish Hasbeens, Little Burgundy
THE PICNIC BLANKET: And lastly, you need an amazing picnic blanket to last you through the seasons. This limited edition Banff HBC blanket has the most beautiful colours that are excellent for sitting by the river and indulging in baguette sandwiches and Italian sodas.
HBC Banff Striped Blanket, The Bay
---