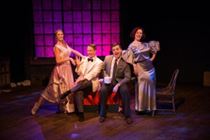 Get them with something sweet is the motto that Lunchbox Theatre is following with their production What Gives? a romantic musical. The production follows in the footsteps of classical movies such as Singin' in the Rain and On the Town. Stewart Lemoine's musical tells the story of Everett (Neil Minor) and Pip (Mathew Hulshof) who are composing the songs to their musical. In runs in Allure (Katherine Fadum) who is hysterical because she and Venice (Jamie Matchullis) were chased by a cockroach. And so we launch into the music of What Gives? composed by Gary Lloyd and R.J Smart.
The music is sweet. The actors have stellar voices and harmonize easily. Everett and Pip struggle to compose music for their play and are lacking inspiration and money. And they get sidetracked by the girls, who are late to a dinner party, they weren't invited to. What Gives is a musical treat. But it's narrative is a little lacking. It's simple, but way too simple. Everything gets tied up with a bow and the audience was still waiting for the big twist or the climax of action. This musical isn't about that. They sing about leaving, baby legs, moon beams, and shoes. This isn't heart stopping theatre.
Which would be fine, if What Gives wasn't so disjointed in its storytelling. It's a sweet little musical, but it doesn't really have anything more to say. So sit back and enjoy the music, appreciate that since its very first production in 1986, Joe Slabe took the time to write out the score so that What Gives? can have productions on other stages without having the cast learn the music from the predecessors. He deserves a standing ovation for that alone.
Narda McCarroll's set design is very simple with a brown piano in the corner and boarded up windows in the background. The streetlamp that gets pulled out for one of the musical numbers is quite neat. The actors definitely flex their singing muscles, but don't need to stretch much for the acting in the play.
What Gives? has got some good melodies, but is pretty flat overall.
Lunchbox Theatre's production of What Gives? runs until October 3rd. More information is available online.
Photo: (Left to Right) Jamie Matchullis, Neil Minor, Mathew Hulshof, Katherine Fadum
Photo credit: Benjamin Laird Arts & Photo
---