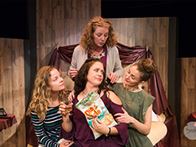 Book Club premiered at Lunchbox Theatre back in 2016 and was such a hit for the company that they are kicking off their season with Book Club II: The Next Chapter, with the original cast. The next chapter explores the bond that these women share and how they lean on each other while they navigate life challenges. The play is a honest look at women and how they try to balance the needs of their families with their own. It is compelling, relatable, and damn funny in parts, while telling an incredibly human story.
The play opens to Barry (Curt McKinstry) in his house kicking back with a beer and ribs. He hears his wife Lisa (Cheryl Hutton) coming so he stashes the ribs and starts folding laundry in hopes that they are clean. They talk while their children bathe and Lisa's book club comes up where they discuss how it should really be a wine club because they don't actually read a book. To close up the scene, something arises in their marriage that creates a lot of conflict which Lisa carries with her on her girls weekend with her book club.
We spin to the next scene in a hotel room where Ellen (Anna Cummer) is first to arrive so she puts on rubber gloves and removes and replaces the comforter and pillows with her own that she brought from home. Kathy (Kira Bradley) and Jenny (Arielle Rombough) come in with chips and wine, gleeful to be childfree for the weekend. Lisa comes in like a storm, not wanting to talk about what happened when her friends prompt her about it, wanting to drink and dance her problems away. But she finds out that sometimes you can take that a little too far.
What makes Book Club II feel like you are a fly on the wall of these women's lives is that the actresses (and actor) bring such vulnerability to their characters. Lisa and Barry go through very real stages of conflict and McKinstry and Hutton explore the layers of their characters. Playwright Meredith Taylor-Parry gives the cast some great lines and portrays the way each partner in the marriage communicates with stunning accuracy. Cummer is the high strung, clean freak Ellen right down to the pitch of her voice and Bradley puts a comedic twist on the new mom Kathy. Rombough balances the cast as Jenny, bringing everyone together.
Lunchbox Theatre and set designer Terry Gunvordahl took a page from Theatre Calgary by having a spinning set on stage. Except unlike Theatre Calgary, Lunchbox's stage doesn't have a built in rotating stage, so the cast spins it themselves. It works though, and allows for a complete change of set when the story changes location. Allison Lynch's sound design captures the themes of the play especially in song choice when the cast is on the dance floor.
Book Club II isn't without its moments that seem far fetched. When the women talk about a fight that Ellen had with her husband, they talk about it as if they were all there at the same time, which seems unlikely. When Barry come to talk to Lisa she chastises him and punishes him and he just takes it. It seems more likely that he would just walk away, because he knows that she's not perfect in their marriage either and he likely wouldn't have much grace as he does in that moment. He also shows more vulnerability then she does, as he tells her why he acted the way he did. She doesn't really address what drove her behaviour in their marriage.
But these are all aspects that director Shari Wattling ties up and keeps moving. Book Club II: The Next Chapter is a chapter worth seeing.
Lunchbox Theatre's Book Club II: The Next Chapter runs until October 7th. More information is available online.
---