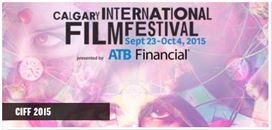 Calgary International Film Festival - September 23 to Oct 4
Join Calgary Film from September 23 to October 4, 2021 for the 16th Annual Calgary International Film Festival. The Calgary International Film Festival is a 12-day showcase of over 200 multi-genre films from Canada and over 40 other countries. Hosting gala events, screenings, award ceremonies and special presentations, CIFF changes the way visual stories are shared and experienced. Festival Passes and Ticket Packages for the 2015 Festival are NOW ON SALE.

Doors Open YYC - September 26 & 27
Over the last weekend in September, many of Calgary's most intriguing and beloved sites participate in Doors Open YYC. For this one weekend, buildings in all quadrants of the city open their doors - free of charge - to the public and providing special revealing tours and behind-the-scenes experiences. Whether you're a geek for history, architecture, the environment, art, sports, science or engineering, this is your chance at an insider's view of Calgary's vibrant and dynamic cityscape.

Culture Days kick off party - September 25
Be a part of Culture Days in Calgary. On September 25th, come down to Olympic Plaza & Stephen Avenue Walk between 3:30 p.m. and 8:00 p.m. for a free, family-friendly celebration that kicks off a vibrant three-day calendar of events. Come and enjoy an array of interactive and fun activities, showcasing Calgary's burgeoning music and arts talent. Work directly with artists and enjoy dance demonstrations and musical performances. You may even have the opportunity to play an instrument yourself!

What gives? - Until Oct 3rd
After an amazing 40th Anniversary year, Lunch Box Theatre is excited to kick their 2015 season with the musical comedy, What Gives. This masterfully done piece by Stewart Lemoine has brought nostalgia and laughter to audiences alike. An intelligent and witty performance, its fast pace will keep you engrossed as you watch the love and laughter grow between the characters. A must see that will appeal to all audiences!

Long Table Dinner - September 21st
Don't forget that the Really, Really, Long Table Dinner was postponed until September 21st, 2015. For those with tickets, tonight is the night! For everyone else, please be aware that most of Stephen Avenue will be closed for the evening to vehicles including bicycles.
Attending the dinner? Use our hashtag #IAMDOWNTOWN to share with your friends on social media and we'll retweet and share our favourites!
-
Want to know what's up in Downtown Calgary? Sign up for our Downtown Calgary Events Newsletter. It's free, we never send spam, and you can unsubscribe at any time!
---