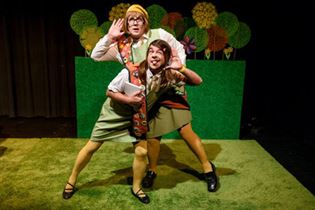 If you're planning on going to Lunchbox Theatre's Flora and Fawna's Field Trip! you'll meet both Flora (Darrin Hagen) and Fawna (Trevor Schmidt) as you go into the theatre. They might connect with you. They might just give you a present and have you go on your way. The play pulls you in as soon as you enter the theatre.
It tells of Flora and Fawna and their friend Fleurette (Chris Enright) who have invited you to join them at the welcome meeting of the NaturElles. You can be different and weird in this group, and there are no restrictions on membership because of perceived gender. The NaturElles's only rule is that no mean girls are allowed. Both Flora and Fawna and Fleurette met some mean girls at Girl Guides and decided that they were going to form their own group. So at this meeting, they chat with you about wilderness safety and give demonstrations in the 'Magic Fairy Ring.'
Flora and Fawna's Field Trip could get tired very quickly, but Hagen and Schmidt's writing and Schmidt's direction has the play moving along at a nice pace. The characters engage with audience members and everyone does so with enthusiasm. These scenes do pull elements of a drag show. Everything that the girls talk about, especially with Flora's two moms and Fawna's parents is peppered with innuendo that the girls don't understand. It makes for entertaining theatre. But if a pseudo drag show was all this play offered it would wear thin and because Hagen and Schmidt have incorporated some intense narrative moments, Flora and Fawna's Field Trip  has the audience caring about the characters. We hear about some of the pain that these girls feel being outsiders.
Hagen's sound design and composition really add to the play and Schmidt's costume design ensures that all the ladies are stylish. Both Hagen and Schmidt have great comedic timing.
Flora and Fawna's Field Trip is a bit of dirty fun with some true moments of great storytelling.
Lunchbox Theatre's Flora and Fawna's Field Trip runs until May 21st. More information is available online.
Photo Credit: Ian Jackson for EPIC Photography
---